---
Title: A. Murray Kinloch fonds. -- [ca. 1959-1993; predominant 1965-1993]. -- 5.44 m of textual material; 190 audio reels, 114 audio cassettes.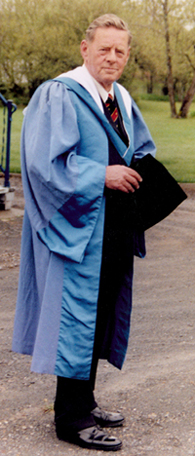 Biographical Sketch: A. Murray Kinloch, son of Alexander and Helen (Stewart) Kinloch, was born in Greenock, Scotland on April 18th, 1923. Kinloch studied at the University of St. Andrews in St. Andrews, Scotland from 1941-1956. During this time, he received an MA in Classics (1944), an MA with first-class honours in English (1950), and a PhD in Anglo-Saxon (1956). He also served as an assistant lecturer at the University of Hull in Yorkshire in 1952, and taught at the University College of Wales in Cardiganshire from 1954-1959.
In 1959, Dr. Kinloch accepted the position of assistant professor in the Department of English at the University of New Brunswick. In 1972, he became a full professor. After he retired in 1986, he was appointed professor emeritus in 1989. During his years at UNB, Dr. Kinloch did extensive fieldwork and published more than fifty papers in the areas of linguistics, dialectology and the English language, including a co-authored annotated bibliography entitled Writings on Canadian English, 1784-1975. Dr. Kinloch was interested in Canadian English (especially as spoken within the Atlantic Provinces), and how it differed from that of the United States and Britain.
In addition to his classes and academic research, Dr. Kinloch also served on a variety of University committees, and was an active member of several associations involving linguistics, and dialectology. He was president of the American Dialect Society, vice-president of the Atlantic Provinces Linguistics Association, treasurer of the Atlantic Provinces Association of Communication Teachers and trustee for the Hans Kurath Fund for Linguistic Geography. With colleagues from the English Department, he organized a Grammar Hot Line in the early 1980s.
Dr. Kinloch also spent eighteen years in the military service, 1942-1960, initially with the British forces, (Royal Scots, Manchester Regiment, and the Black Watch), before resigning his commission in 1957. After his arrival in Canada, he remained active with the militia (6 Independent Signals Squadron) until 1960. Dr. Kinloch was also well known for his work with the Humane Society and the SPCA.
Dr. Kinloch died suddenly on August 25th, 1993, while returning from a trip to Grand Manan Island. He was survived by his wife, the former Jean Elizabeth Wall.
Scope and Content: This fonds documents A. Murray Kinloch's lifelong involvement with the study of linguistics, in particular the dialects of Atlantic Canada. Most of the records found within this fonds were created by various dialect surveys in which Kinloch was either principal researcher or supervisor of the projects. Project working papers, in the form of questionnaires and phonetic transcriptions, predominate, complemented by the audio tapes of the interviews that were conducted.
The fonds also contains working papers for the bibliography entitled Writings on Canadian English, 1784-1975. Kinloch's academic career at UNB is reflect in course outlines, lecture notes, student records and student projects. The fonds also includes correspondence between Kinloch and W.C. Lougheed of the Strathy Language Unit at Queen's University in Kingston, Ontario. In addition to the materials created by Kinloch in his projects, there are collected materials such as samples of questionnaires, which were supportive of his work.
The fonds is divided into 12 series:
1. Writings on Canadian English Working Papers and Related Material. -- 1965-1991; predominant 1970-1980
2. "New Brunswick Dialect Survey" Transcriptions, Sound Recordings and Supplementary Materials. -- 1969-1984; predominant 1969-1973, 1984
3. New Brunswick Fieldwork Interviews Conducted by Researchers Other than Kinloch. -- [196-?]-1993; predominant 1977-1993
4. "Dialect Investigation" Working Papers and Sound Recordings. [1968?]
5. "UNB Dialect Group" Working Papers, Transcriptions and Sound Recordings. -- 1970-1982
6. Class Preparation, Student Records, and Student Projects. -- 1959-1989
7. Phonetic Analysis Working Papers.-- [ca. 1970-1980]
8. "Survey of Canadian English" Questionnaires and Sound Recordings. -- [1971?]-1974
9. Checklists of Regional Expressions used by Raven I. McDavid Jr. -- 1958-1961
10. Miscellaneous Sample Questionnaires.-- [ca. 1959-1983; predominant 1973-1983]
11. Miscellaneous Textual and Audio Records. -- [ca. 1968-1989]
12. Correspondence with W. C. Lougheed. -- 1983-1985
Notes:
Title: Title is based on name of the creator.
Accompanying Material: An unbound set of maps, pp. 243-734, from the Linguistic Atlas of New England (1972) accompanied this donation, as did two boxes of books. Some of the books deal with linguistics; others were an assortment of 19th century publications. A listing of this material is available upon request.
Immediate Source of Acquisition: In 1986, A. Murray Kinloch deposited his student record books and his correspondence with W.C. Lougheed in the University Archives. In September 1995, his widow, Jean Kinloch, deposited the remainder of the fonds.
Restrictions on Access, Use, Reproduction and Publication: All material in this fonds is accessible with the exception of Student Record Books in series 6, sub-series 1. Access to these records is limited to faculty of the English Department. Copyright clearance will be required for copying of material created or collected by Kinloch.
Related Material: The Department of English fonds, (RG 356, boxes 11-12) contains extensive Kinloch correspondence created while he was chairman of the English Department.
---

BACK TO CONTENTS
---
Document Maintained by: UNB Archives email address archives@unb.ca Last Update: 16/05/2001