---
Louis Arthur Cunningham fonds
MG L13
Archives and Special Collections
Harriet Irving Library
University of New Brunswick
P.O. Box 7500
Fredericton, New Brunswick
E3B 5H5
April 1999
---
Biographical Sketch
Custodial History
Scope and Content
Series:
---
Louis Arthur Cunningham fonds. [textual records and graphic records] -- 1900-1964: predominant 1927-1954. -- 2.56 m of textual records and 5 photographs.
Biographical sketch: Louis Arthur Cunningham was born in Saint John, NB on September 28, 1900, the son of William J. Cunningham and Sarah (McGrath) Cunningham. He earned a BA (1922) and MA (1923) from St. Joseph's University, then completed a one-year Knights of Columbus fellowship at the Catholic University of America in Washington, DC (1923-24), teaching English, French, and Latin.
In 1925, Cunningham returned to St. John to become a full time writer. He published his first story in the same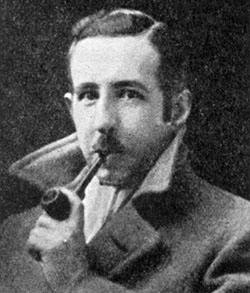 year, and by 1927 had published his first novel, Yvon Tremblay. On July 10, 1929 Cunningham married Hortense Marie Mooney of Saint John.
In a thirty year period, Cunningham wrote more than thirty novels, and more than five hundred short stories, and non-fiction feature articles which were published around the world. Fascinated by the geography and history of the Maritime provinces, he set much of his fiction in the Maritimes, and wrote many non-fiction articles about regional topics such as the history of Saint John shipbuilding and the men and women whose livelihoods depended on the sea. On a few occasions, Cunningham submitted stories for publication under the pseudonyms "Merlyn Miller" and "Merlyn Swift."
Louis Arthur Cunningham died of a heart attack at his Hammond River home on June 13, 1954.
Custodial History: After Louis Arthur Cunningham's death, his widow continued to seek publication of his writings. When Mrs. Cunningham died, the material became the possession of her sister, Claire Murphy.
Scope and content: This fonds, which consists largely of holographs and typescripts of manuscripts in various genre, documents Louis Arthur Cunningham's long and successful career as a popular writer. The fonds also includes print copies of many of his works, especially the short stories.
There is supporting documentation for his literary activities such as correspondence with publishers, legal agreements, and notebooks documenting dates and prices paid as manuscripts were sent to publishers. After his death, there are similar records kept by his widow as she continued to try to sell his work.
There are a few personal and biographical items such as newspaper clippings about Louis Arthur Cunningham, a few photographs and personal documents such as birth and marriage certificates and university diplomas.
The fonds is divided into 5 series:
Series 1. Manuscripts and typescripts of literary works, [ca. 1925] - 1954
Series 2. Printed copies of literary works, [ca. 1925] - 1954
Series 3. Literary correspondence, agreements, publication records and notes, 1927-1964
Series 4. Personal documentation, 1900-1950; predominant 1940-1950
Series 5. Photographs
Title: based on the name of the creator of the fonds.
Immediate Source of Acquisition: The fonds was acquired by the UNB Archives and Special Collections from Mrs. Claire Murphy, sister of Hortense Cunningham, in July and August of 1970.
Accompanying Material: A collection of books from the personal library of Louis Arthur Cunningham, including both his own publications and those he had collected, were received with this fonds. Some were added to the main library collection and some were placed in the Rufus Hathaway Collection of Canadian Literature.
---

BACK TO ARCHIVES
---

Document Maintained by: UNB Archives email address archives@unb.ca Last Update: 1999/06/23