---
Letter Durham Bentinck, Grey Co., Ont. re Mullan's leaving teaching
(from Series 3)
Page 1


Durham Bentinck
Oct 14th 1858
Mr. James Mullan
Teacher
Sir
As Secretary of the Educational
Soiree Committee I have great pleasure in trans-
mitting to you the sincere regret and sorrow
shown at your departure from amongst us as
expressed in the following resolution, which
was unanimously carried at the Soiree of the
13th inst
Resolution
Moved by J.M. Sutherland and Seconded by
A.B. McNab Esqr.
That this meeting desires to express its high sense of character and
conduct of Mr. James Mullan as a Teacher of the youth
that his departure from Durham is looked upon
with regret which is only tempered by the knowledge
that he goes to prepare himself for greater usefulness
and that all now present join in the hope and

---
Page 2


prayer that success and happiness may ever attend
his future career and that his merits may
be as truly appreciated as they have been during
his residence in this place.
S.L.[N]. Luke.
Chairman.
J.M. Sutherland. Sec. E.S.C

A. Stewart Trustees union
John Miller School No 1
David Jackson Bentinck & Glenelge

George Jackson
Reeve of the Township of Bentinck
and Warden of the County of Grey

Saml. E. Legate J.P.

---
Page 3


Blank page




---
Page 4


James Mullan Esqr
Teacher

---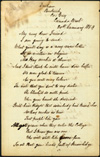 POEM SENT TO J.S. MULLAN FROM ANN ELIZABETH STEWART

BACK TO SERIES 3
---
Document Maintained by: UNB Archives email address archives@unb.ca Last Update: 2002/10/30