---
Manuscript verse in rhyme sent to J.S. Mullan from Ann Elizabeth Stewart
(from Series 4)
Page 1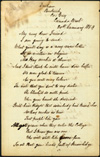 Durham
Bentinck
Co. Grey
Canada West
20th January 1859

My very dear Friend
I am going to send
What youll say is a very nice letter
It is written in rhyme
Mr. Hay [makes] it [chime]
And I dont think he could have done better.
We were glad to receive
As you well may believe
The note that you sent to my sister
She blushed so with pride
When your hand she descried
Youd have thought that somebody had kissed her.
Mr Hay [makes] no true
That people like you
All get grave when they enter the College
But I know you are one
Who will still like some fun
For all that your heads full of knowledge.

---
Page 2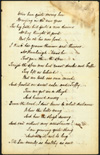 Weve been quite merry here
Bringing in the new year
The big folks had quite a nice dinner
Mr. Hay thought it good
But for all his nice food
I think hes grown thinner and thinner.

Mr. Rumbough twas he
That gave them the spree
Though the spree was but roast ducks and coffee
They left us behind
But we took our own mind
And feasted on sweet cakes and taffy.

Then we got in a sleigh
And hurried away
Down the road, I dont know to what distance
O how the bells rung
And how the sleigh swung
And ran without any assistance!

I am growing quite strong
And it will not be long
Till Im nearly as healthy as ever

---
Page 3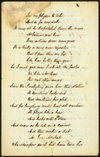 Ive no physic to take
And so for my sake
It may all be despatched down the river.

Mr. Collins was here
Once or twice since new year
He is truly a very nice master
But I fear then one few
Like him better than you
So I wish you were back all the faster.

We like Mr. Hay
Hes not often away
Since the Presbytery gave him this station
He sometimes looks sad
But sometimes hes glad
And for laughing would beat all creation.

He plays like a bear
And looks with a stare
And roars as he sits in a corner
And then makes a dab
At Eva McNab
Who scampers as if hed have torn her.

---
Page 4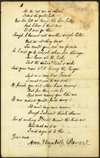 All the rest are at school
Indeed its quite full
But Im left at home till Im better
And I fear I dont care
If I ever go there
Though I learned not another single letter.

But as Mr. Hay says
This would give me no praise
So I will go to school when Im stronger
And learn all the tasks
That the school teacher asks
And grow wiser while living the longer.

And now my dear Friend
I must come to an end;
Of friends you will often have many
But few there will be
That will mind you like me
If ever indeed youll find any.

Ill write my own name
Though I almost think shame
For of writing I dont know the true art
But such as it is
I will sign it to this
Your own
Ann Elizabeth Stewart.
---

LETTER RE MULLAN LEAVING TEACHING

BACK TO SERIES 4
---
Document Maintained by: UNB Archives email address archives@unb.ca Last Update: 2002/10/30