---
Remembrance Day Tragedy in Fredericton, 1945: A First-Person Narrative
Bryan Priestman -
A Biographical Sketch(313 K)
by Ted Jones
Fredericton, New Brunswick
The University of New Brunswick,
November 1970


---

In the late 1950s, when I first came to Fredericton, I was intrigued by the various street names, especially the one called PRIESTMAN, which is located on the South Side at the top of the hill and which is an extremely busy artery in the city today. It was easy to see that most of the street names emanated from members of royalty, political giants, and historical figures, but who was PRIESTMAN and why did this person have a street in his honour? A few inquiries gave me the basic facts of the story: a University of New Brunswick Physics Professor, Dr. Bryan Priestman, lost his life while attempting to save a small boy who had fallen into the St. John River. The date was 11 November 1945 and the eight-year-old child, Ronald Dempsey, also drowned.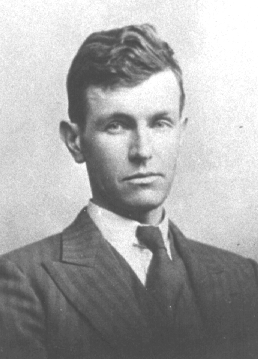 Bryan Priestman
from a 1930s' composite of the 17-member UNB faculty.
(Harvey Studios Collection, PANB, #P14/84)

However, I wanted to know more, but it was not until 1970, twenty-five years after the tragedy, that I started to "dig" for details. The Daily Gleaner was my first source, the UNB campus my second and, after a quarter of a century, I hoped that individuals who knew Priestman would still be around. I was fortunate; most of his acquaintances were still living and a number of them had remained in the area. By locating the police officers who were at the scene of the drowning, and by conducting interviews with former colleagues and students, I was able to piece together the Priestman biography on this side of the Atlantic.
Miraculously, I even found the other boy who was on the bridge that day. His name was Edward McLean and he was 36 in 1970, ironically, the owner and operator of the same Carleton Street Barber Shop which had been frequented by Dr. Priestman. On the afternoon we met, McLean kindly closed his business so we could visit the old railway bridge where the accident happened, an eerie experience for both of us as he vividly recalled the details. Having been only eleven years old at the time of the tragedy, McLean never knew who Bryan Priestman was until I made my unexpected visit to his shop.
For Priestman's youth in England, where he was born in London in 1897, I corresponded extensively with Barbara Priestman, the eldest of his four younger sisters (there were no brothers). The mother was still living, but the father, Bertram Priestman, an acclaimed British landscape artist, had died in 1951. As directed by his handwritten will, Bryan left several of his father's paintings to the UNB Library and close friends in Fredericton.
After attending a Quaker Boarding School, Bryan went on to Cambridge University, where he received a BA (with honours in Physics) in 1923. He then came to Canada to attend McGill University in Montreal, where he obtained two more degrees in Physics - an MSc in 1926 and his PhD in 1929. Before he finished the last, he had already come to Fredericton to be a one-man Physics Department at Memorial Hall. During the 1930s, there were only 17 professors on the faculty of UNB, one of them being Dr. Francis Toole, who shared an apartment with Priestman on the second floor in the west wing of the Old Arts Building. Putting in large quantities of apples and walnuts, eating them for breakfast, the two professors spent long hours talking about education, religion, and politics. When Dr. Toole married and went to live at 824 George Street, Dr. Priestman took rooms upstairs in the same building.
Early in 1940, renouncing the Quaker pacifism of his youth, but still being an enemy of "militarism," Bryan Priestman offered his services to His Majesty's Forces and joined the RCAF. "I'm not going to miss this one," he said, having spent World War One on the sidelines as a Conscientious Objector in the Friends' Ambulance Unit created for Quakers. By 1943, he had been promoted from Pilot Officer to Flight Lieutenant to Squadron Leader. The great enterprise of ferrying bombers from Canada to the war theatres was just under way when he saw in it an opportunity for more brilliant war service. By the time he was 48, he had navigated 35 bombers from Canada to the battle zones, setting a record in accurate performance which is probably unequalled in an Air Force or flying organization. According to the Departments of National Defence and Veterans Affairs, with whom I corresponded, Priestman was the navigation pioneer of the North Atlantic. He saved 24 of his flight plans and 32 of his flight charts and these were eventually placed in the UNB Library Archives.
This modest, yet brilliant, senior officer would dash into side streets to avoid being saluted. He refused to wear medal ribbons and badges and, when he was honourably retired, he would not wear his uniform to social functions. In the Fall of 1945, he arrived back on the UNB campus in Fredericton, ready to re-organize the Physics Department and to renew old acquaintances. Then came Remembrance Day, which I attempted to recreate for the opening scene of my Priestman biography, the descriptions having been drawn from all areas of my research:
Under clear blue skies of a Sunday afternoon, 11 November 1945, New Brunswick's capital city was reposed in a perfect autumn setting. Earlier in the day hundreds of citizens had gathered at the Cenotaph on lower Queen Street, opposite the "Green" that parallels the St. John River, to pay homage to men and women who had given their lives in two Great Wars. It had been the first peacetime Remembrance Day service held in Fredericton in seven years .

Eight-year-old Ronald Dempsey and eleven-year-old Edward McLean from Barker's Point, a small village across the river from Fredericton, had hoped to be over in the city in time to see the Legion parade. To save time the boys took a popular short cut over the railway bridge that spans the Saint John River just below the Cenotaph. But they were too late; the parade had already made its way to Officer's Square for dismissal.

Dempsey and McLean, deciding to stay "over town" for awhile, began to wander up into the "jungle" (a wooded area between the Federal Building and the Lord Beaverbrook Hotel which has long since been cleared). It was a popular spot for the town derelicts, and the boys were excited over this new adventure, one that eventually led them to the discovery of an unopened quart bottle which was carefully wrapped in brown paper. After admiring their "find," they decided to take it home immediately and show it to their parents; and with McLean carrying the bottle they proceeded back toward the railway bridge - the short cut home.

It was just before four o'clock when the two boys reached the bridge, a time when there were several other people also present, not for a short cut but for a Sunday afternoon walk (gasoline was still rationed and few people were driving cars). However, no provision had been made for pedestrians in the construction of the bridge and regulations prohibited people from walking the railway ties. But this did not prevent one such hiking enthusiast who had walked the bridge many years before the war and who was now using it, having only returned to the city in early September.

Bryan Priestman had just left his lodgings at 824 George Street to stroll along the "Green" toward the bridge, his maroon R.C.A.F. beret pulled tightly over his slightly-curly, light-brown hair, a blue scarf tucked inside his well-worn blue jacket. He had not attended the morning ceremony at the Cenotaph but had, instead, planned his day around an afternoon hike to the Devon side of the river, almost forgetting that he must return for an early evening dinner invitation with friends at the apartment of Edith McLeod, 610 Queen Street (Miss McLeod was the Registrar at the University of New Brunswick).

It was good to be in the chill air, away from the reorganization of the Physics department on the U.N.B. campus. Just to concentrate on the panorama of Fall colors with the swiftness of the swollen river beneath him was invigorating. During the 30s he had skated on the river with his good friend Robert Cattley (Professor of Classics), and always "got a kick" out of trying his half-forgotten school Latin in Cattley's presence. Once, when they were putting on their skates for an hour of fun, a bevy of co-eds swirled past, skirts flying. Priestman, with a chuckle, turned and said, with an infectious grin spreading across his light-complexioned face: "Aliquot puellae!" (which may be misconstrued as either "Quite a few girls!" or "Some girls!" - the latter version of which the Latin will not stand).

When it was summer he would join friends at the boat club (near the Robert Burns monument on the "Green") and they would paddle canoes to "the islands" or branch off and go up the Nashwaak River. They would buy weiners, buns, and baked beans from a store which would take back what they did not use, as they never knew how many would come. There would be swimming, games, singing, perhaps poetry, and often discussions, ending with a drift home in the evening light, the canoes all in a row.

This same railway bridge had often been his route for runs and hikes on the Devon side. He and Cattley and Malcolm MacPherson (Professor of English, and now British Member of Parliament) generally chose railway tracks for their "jogging" because others, who did not seem to feel the need to keep fit by "jogging," were mildly amused at the two typical Englishmen and the Scot who actually liked getting out of breath. So during the 30s they often chose the tracks, where they could run without being jeered at. But the ties were a nuisance; they were so spaced that one could neither run nor walk on them evenly. For years he and Cattley had a standing joke about them; they were to write to both the CP and the CN and request them to space out the ties so that they could run at ease! However, for the present, his low black shoes were gradually getting used to that part of the trestle that extended from the rail toward the girders.

The heavy black leather boots which came up around Ronald Dempsey's ankles were also having trouble with the railway ties. To make his walking easier he placed his feet on top of the wooden guard rail or beam which was fastened to the ties with large, projecting bolts. McLean, although he did admire Dempsey's new position, was not as brave, so he stayed in the middle of the tracks, clutching the brown-wrapped bottle, walking a few feet ahead of his chum. They were sauntering along, looking behind them now and then, taking particular notice of the man in the maroon beret who was about halfway across the bridge. Finally, they reached the last pier on the Devon side.

Suddenly McLean was aware of an abrupt sinister silence and, turning around quickly, noticed that Dempsey had fallen through the opening between the wooden guard rail and the steel girder, and had dropped 30 feet to the river below. McLean, beginning to panic, hollered to Bryan Priestman: "Ronnie's fallen off the bridge!" The lean figure of the forty-eight-year-old Priestman moved quickly. Doffing his gloves, shoes, beret, scarf, and jacket, letting them fall on the flat part of the steel girder, and telling McLean to go for help, he dove, without hesitation, from the great height. Within seconds man and boy were one, Priestman's arm tightly around Dempsey's body. But then there was a slight struggle and they both disappeared into the icy water, never again to surface alive.

Edwin Irvine (currently living on Gibson Street) and Everett Mitchell (now deceased), approaching the bridge from the Devon side, were the first to notice that anything was wrong. They saw the two boys coming toward them, heard a splash, and then saw one running past, crying out something unintelligible. The two men then hurried farther out onto the bridge to investigate but could see nobody in the water. Soon a soldier arrived, having learned of the accident from McLean and then having phoned the police. When a police car came on the scene Bryan Priestman's clothing was searched for identification, but the only thing to be found in the pockets of his jacket was a light blue cigarette case.

Early the following morning thin slivers of ice broke away from the river's shoreline as the grappling parties, made up of City and Royal Canadian Mounted Police and local residents, continued operations from the Sunday afternoon before. It was at this time also that Dr. Bryan Priestman was noticed missing from his place of residence and from his desk on the U.N.B. Campus. His friends had not been surprised when he did not appear for dinner the evening before; to leave social invitations unfulfilled or to show up late was not unusual for him. His tendency to undertake each thing very thoroughly, be it mental or physical activity, sometimes made him neglect various other things.

At dusk regular grappling activities ended for the second day because of darkness. But the boy's step-father, Joseph Murray, and three other friends from Barker's Point, Junior Dunbar (still residing in the village), Jack Howland, and George McIntyre, continued; at 8:30 o'clock one of the hooks of their grappling irons caught the boy's clothing, lifting the pair to the black surface of the water just about nine feet from the Devon shore (in front of the Irving oil tanks, not far below the spot where the accident had occurred). Caught, perhaps, on the mangled metal of the old railway bridge that gave way in the 1936 freshet, they were carried no farther.

Police Inspector William Hughes said later: "It was the most tragic sight I have ever seen, the two bodies clasped together". (According to one observer, there was a faint smile on the face of Dr. Priestman). The same sentiments were also expressed by a young policeman, Constable C.M. Barchard (now Deputy Chief), who kept vigil over the bodies after they were brought ashore, waiting for Coroner Charles Mackay, M.D. Ronald Dempsey's arms were tightly clasped around the Professor's neck; Bryan Priestman had his arms around the boy's body. Dempsey was missing one boot and the other was untied, suggesting that Priestman had probably endeavoured to remove the boots to enable him to rescue the boy with more ease. There was another noticeable feature: one of the boy's knees was thrust into the man's groin.
---
Dr. Priestman's body was taken to Memorial Hall where it lay in state until the funeral. At Forest Hill Cemetery, his grave is marked with a small, unpretentious stone which reads: "Greater love hath no man than this." Ronald Dempsey was buried on the North Side of Fredericton in Sunny Bank Cemetery.
At the close of 1945, a commemorative plaque was placed in Memorial Hall by the UNB Veterans' Club but moved later to the Memorial Student Centre, now the Alumni Building. On 24 October 1946, the UNB Journal of the Air delivered a Bryan Priestman Memorial Broadcast over Radio Station CFNB. Among those taking part were Dr. Francis Toole (fellow-professor), Squadron-Leader W. Munro (fellow-airman), and students Robert Lawrence, Douglas Rouse, and Dalton Camp. The fifteen-minute recording is now located in the UNB Library Archives. During the War, when he was flying from Halifax to England, Priestman always set his flight direction by the "carrier wave" of CFNB, a frequency of 550,000 kilocycles, a "home" signal for him until the antenna would pick up another wave.
Also in 1946, Bryan Priestman was posthumously awarded two medals: from the Royal Canadian Humane Association, a gold medal, rarely given, except when the deed of bravery has cost the hero's life; from the Carnegie Hero Fund Commission, a bronze medal, accompanied by a financial grant. In 1952, Lord Beaverbrook delivered the medals to Bryan's mother in England. In 1977, three surviving sisters (Ursula, Erica, and Monica) returned the medals to Fredericton to be permanently housed at UNB.
During the early 1950s, the York-Sunbury Historical Society brought forth the idea of having a street named in Bryan Priestman's honour, minute books and the daily press indicating that the Society never gave up on this particular memorial idea until it was finally realized in 1956. To this date, it is the only street in the City of Fredericton which bears the name of a local hero.
The University of New Brunswick also desired to establish a memorial, something that would respect his wishes but would not be an elaborate monument. Thus, "The Bryan Priestman Memorial Lectureship" was set up, the first lectureship at the University. Since the academic year 1951-52, outstanding authorities in one or other of the natural or social sciences have been brought to the campus, the annual visitor spending several days and delivering three formal addresses known as "The Bryan Priestman Memorial Lectures." At the 1970 lecture, 1000 copies of my Priestman biography went on sale for a nominal fee, all proceeds going to The Lectureship Fund.
Remembrance Day, 1995, marks the 50th anniversary of the Priestman-Dempsey tragedy and the 25th anniversary of the publication of Bryan Priestman by the University of New Brunswick. Fortunately, the 1000 copies have all been sold; unfortunately, there has been no reprint (so far). But this year the UNB Library Archives will continue with its tradition of a small Priestman Exhibit throughout the month of November. Memorabilia from the UNB Physics Department and from my own personal collection will be made available for this particular display.
I still think about Bryan Priestman whenever I walk or drive along the busy street that bears his name, appreciating the fact that the York-Sunbury Historical Society persisted in their efforts to commemorate a local hero. Perhaps Francis Reginald Scott, Rhodes Scholar and Canadian Poet and Priestman's close friend during their McGill years, said it best when he wrote an elegy in 1954 which is highlighted with poetic licence and unique metaphor and which makes us aware that the Englishman/Canadian who adopted Fredericton for his home lived and died by his creed, his faith, and his upbringing:
---
For Bryan Priestman
The child fell, turning slowly with arms
outstretched like a doll,
One shrill cry dying under the arches,
And floated away, her time briefer than foam.

Nothing was changed on the summer day.
The birds sang,
The busy insects followed their fixed affairs.
Only a Professor of Chemistry, alone on the bridge,
Suddenly awoke from his reverie,
into the intense moment,
Saw all the elements of his life compounded for testing
And plunged with searching hands
into his last experiment.

This was a formula he had carried from childhood,
That can work but once in the life of a man.
His were the labels of an old laboratory,
And the long glass tubes of the river.

-F. R. Scott
---

from Canadian Anthology, eds. C.F. Klinck & R.E. Watters (Toronto: W.J. Gage Ltd.,1955)


---
Priestman Lecturers

1951-52   Dr. Harlow Shapley, Astronomy
          Harvard University Observatory

1952-53   Dr. James A. Corry, Political Science      
          Queen's University, Kingston, Ontario

1953-54   Dr. George Wald, Biology, Harvard University
          Nobel Prize for Medicine & Physiology, 1967

1955-56   Dr. George Gamow, Physics
          George Washington University

1956-57   Dr. Linus Pauling, Chemistry
          California Institute for Technology
          Nobel Prize for Chemistry, 1954
          Nobel Prize for Peace, 1962

1957-58   None

1958-59   Dr. John Tuzo Wilson, OBE, Geophysics
          University of Toronto

1959-60   Sir Robert Watson-Watt, Inventor of Radar
          British & American Research Areas

1960-61   None

1961-62   None

1962-63   Dr. H. L. Keenleyside, Chairman
          British Columbia Power Commission

1963-64   Dr. Sydney Fox, Space Biosciences
          Florida State University

1964-65   Dr. Philip Morrison, Physics
          Cornell University, New York

1965-66   None

1966-67   Dr. Har Gobind Khorana, Chemistry
          University of Wisconsin
          Nobel Prize for Medicine & Physiology, 1968

1967-68   None

1968-69   Dr. John Wheeler, Physics
          Princeton University, New Jersey

1969-70   Sir Edward Bullard, Geophysics
          Cambridge University, England

1970-71   Dr. Zdenek Kopal, Astronomy
          University of Manchester, England

1971-72   Dr. Robert C. Gallo, Research Scientist
          National Cancer Institute, Bethesda, Maryland

1972-73   None

1973-74   Dr. Gerhard Herzberg, Physics
          Distinguished Research Scientist
          National Research Council of Canada, Ottawa

1974-75   None

1975-76   Dr. Matthew S. Meselson, Biochemistry
          Harvard University

1976-77   None

1977-78   Dr. William S. Fyfe, Geology
          University of Western Ontario, London, Ontario
          Editor of Chemical Geology

1978-79   None

1979-80   None

1980-81   Dr. William Nunn Lipscomb, Chemistry
          Harvard University
          Nobel Prize for Chemistry, 1976


1981-82   Dr. Rosalyn Yalow, Clinical Sciences
          Monte Fiore Hospital & Medical Center,
             New York
          Nobel Prize for Medicine & Physiology, 1977

1982-83   None

1983-84   Dr. Arthur L. Schawlow, Physics
          Stanford University, California
          Nobel Prize for Physics, 1981

1984-85   None

1985-86   None

1986-87   Dr. Ursula M. Franklin, Archaeometry
          University of Toronto

1987-88   None

1988-89   Dr. John Polanyi, Chemistry
          University of Toronto
          Nobel Prize for Chemistry

1989-90   Dr. Kenneth Hare, Chancellor
          Trent University, England

1990-91   Dr. Ronald L. Graham, Mathematics
          Rutgers University, New Jersey

1991-92   Dr. John Maynard Smith, Evolutionary Biology
          University of Sussex, England

1992-93   Dr. Roger Penrose, Mathematics & Physics
          Oxford University, England

1993-94   Dr. Rudolph Marcus, Chemistry
          California Institute of Technology
          Nobel Prize for Chemistry, 1992

1994-95   Dr. Eugene Shoemaker, Astrogeology
          US Center for Astrogeology, Arizona

1995-96   Dr. John Conway, Mathematics
          Princeton University, New Jersey

---
Jones, Ted.

"Remembrance Day Tragedy in Fredericton, 1945: A First Person Narrative."
in The Officers' Quarterly, v. 11, no. 4, Fall 1995, p.18-22.

---

BACK TO ARCHIVES PAGE
---

Document Maintained by:
UNB Archives
email address archives@unb.ca
Last Update: 2001/12/20