---
James Scott Mullan fonds [textual records]. -- 1847-1947; predominant 1862-1909. -- 1.15 m. of textual records; 3 photographs, b&w, 13cm. x 17cm. and smaller.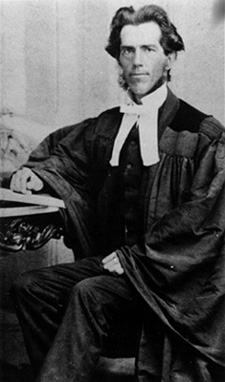 Biographical Sketch: James Scott Mullan was born to John Mullan/Mullen, farmer, of Derry Lane, Dungiven, County Derry, Ireland on 23 December 1830. He came to Canada in 1848, possibly with, or to join, other family members near Perth, Ontario. Between 1854 and 1856 Mullan was a student in the Arts Faculty at Queen's College (later University) in Kingston, Ontario, where he took two prizes in mathematics, but no degree. By 1857 he held a teacher's licence for Grey Co., Ontario where he was a schoolmaster at Durham Bentinck Union School, no. 1. Letters of reference from Kingston say he was an able and experienced teacher of mathematics. In 1858 Mullan left his teaching post and registered in Theology at Divinity Hall, Queen's College, which was associated with the Church of Scotland. During his student years he spent his summers in Southwestern Ontario as a catechist and occasional preacher. Mullan "sustained the examination" by the Presbytery of Kingston in 1859, receiving a licence to preach in 1861 when he was ordained to the Presbyterian congregation at Clarke Twp., near Port Hope, Ontario. On 24 March 1862, at Clarke, J.S. Mullan married Eliza Jane Sommerville, the daughter of Alexander Sommerville of Kingston, Ont. They had a family of four sons and four daughters [Jane Ann, Mrs. J.A. Young; Minnie, Mrs. J. Pringle; John; Sarah; Jim; Will; George; Josie]. Rev. Mullan remained with the Clarke congregation until he took up a posting at Osnabruck, Stormont Co., Ontario in 1868 where he remained for ten years. Although he was moderator of this Presbytery in 1876-77, a quarrel with the congregation led to his dismissal and Osnabruck was declared vacant in February 1878. During the period 1878-1881, Mullan wandered from western Ontario to Nova Scotia, preaching irregularly, not attached to any congregation. In 1882, he came to reside at the Old Manse on the Nashwaak in York Co., New Brunswick as minister to the congregation at Stanley, where he also served, in turn, the communities of Tay Creek, North Tay, and Williamsburg one week, and the communities of Covered Bridge, Taymouth and Durham the other week. During his career in New Brunswick, the Rev. Mullan became one of the best-known Presbyterian ministers in the province. It is thought that during the 1890s the Stanley congregation became bitterly split between the Mullanites and the Blairites (a group supporting Andrew Blair, a leading layman, and member of the church Session). On 5 July 1898, Rev. J.S. Mullan was debarred from preaching at Nashwaak and Stanley. He began ministering to various lumber camps throughout the area, and also travelled into the Miramichi region. He continued his ministry in Stanley by preaching at the Methodist Church there and in other churches and halls open to him. His sermon logbook of "discourses delivered" records c. 5600 sermons preached over nearly a 60-year career, from the shores of Lake Huron to York Co., New Brunswick. James Scott Mullan died in Stanley, one day after his 87th birthday, on 24 December 1917.
Sources:
Daily Gleaner obituary 24 December 1917, p. 6
Provincial Archives of New Brunswick. Death Records. RS 141; film 18741, # 002100
biographical notes by Dr. D. Murray Young, UNB Dept. of History (see UA RG 181)
Custodial History: J.S. Mullan left the fonds to his eldest daughter, Jane Ann (Mullan) Young, who in turn left it to her grandson, Dr. D. Murray Young, Professor Emeritus of History, University of New Brunswick.
Scope and content: The bulk of the fonds comprises more than 800 holograph sermons and the notebooks which detail the 'discourses delivered' - date, location, subject, and biblical text - during Rev. Mullan's lengthy career as a Presbyterian minister. Also included are some personal documents of James Scott Mullan such as correspondence, certificates, and literary and verse writings, as well as lecture notes and essays from his student days at Queen's College (later Queen's University) in Kingston, Ontario.There are 65 original marriage licences (1881-1910) from the New Brunswick parishes of Stanley, St. Mary's and Harvey, and original baptismal records (1862-1868) from Clarke Twp., Ontario.
The fonds comprises 5 series:
Series 1: Sermons of Rev. James Scott Mullan 1859-1916; undated; predominant 1862-1909
Series 2: Vital statistics records and account books 1861-1910; predominant 1861-1868; 1885-1899
Series 3: Personal papers 1847-1888; predominant 1857-1868
Series 4: Manuscript verse 1851-1880; predominant [185-?]
Series 5: Student essays and lecture notes [185-?]
Notes:
Title based on the content of the fonds.
Accompanying material:
1.See appendix for list of pamphlets received with this fonds and transferred to Rare Books, Archives & Special Collections, UNB Libraries.
2.Photocopy of a draft biography of James S. Mullan, prepared by Dr. D. Murray Young, in Series 3.
Immediate source of acquisition: Received 16 June 1998 from Dr. D. Murray Young.
Restrictions: Open access.
Related groups of records:
UA RG 181 D. Murray Young fonds
MG H 185 Minnie Mullan and James Pringle fonds
MG H 141 Donald Pringle fonds
---

BACK TO CONTENTS
---
Document Maintained by: UNB Archives e-mail address archives@unb.ca Last update: 2002/10/17