---
UA
RG 243
Title: Beverley Macaulay fonds. -- 1924-1975; predominant 1924-1928. --5 cm of textual material
Biographical Sketch: Beverley Francis Macaulay was born at Castalia, Grand Manan, New Brunswick in 1907. He attended Rothesay Collegiate School and upon high school graduation, he entered the University of New Brunswick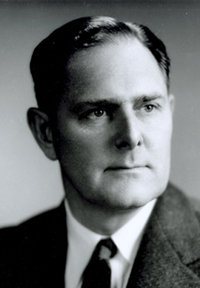 where he received a BSc in Electrical Engineering in 1928. At UNB he was an outstanding athlete, vice-president of the Student Council, a member of the UNB dance orchestra, and president of his graduating class.
Macaulay worked as an engineer with Bell Telephone Company of Canada in Quebec prior to World War II, during which he served as an officer in the Royal Canadian Navy, and rejoined the company in 1946. From 1951 to 1957, Macaulay was Business Manager and Secretary to the Senate at UNB. He spent three years in Canadian industry before returning to the University as Vice-President (Administration) in 1960. During his career at UNB, Macaulay worked with four UNB presidents, oversaw the construction of more than 30 new buildings, and helped to shape the administration into a business organization. He was active in several fund-raising campaigns and helped to design UNB's coat of arms and flag.
In 1966, Macaulay received an honorary Doctor of Laws degree from Saint Thomas University for his role in translating the plans for St. Thomas into a reality in Fredericton. Macaulay retired from UNB in 1974. It was also in this year that he received an honorary Doctor of Science degree from UNB. In 1979 Macaulay was inducted into the New Brunswick Sports Hall of Fame as a member of UNB's 1925-29 rugby team.
Dr. Macaulay was an active alumnus who was married to Althea Warren Macaulay (BA '39, LLD '90). Beverley Francis Macaulay died on September 6, 1996 in Fredericton, N.B.
Sources:
University Perspectives, vol. 1, no. 8, October 7, 1974.
UNB Alumni News, vol. 5, no. 2, Winter 1997.
Scope and Content: This fonds consists of one research file and two scrapbooks. The research file contains research notes, various lists, and progress reports on UNB's Varsity Athletic Teams from 1887 to 1975. This research was compiled by Beverley Macaulay and the Archives staff of UNB in 1975. The scrapbooks contain newspaper clippings, post cards, programmes and diner menus, telegrams, and greeting cards documenting UNB Sports, 1924-1928. One scrapbook, "UNB English Rugby Team, 1925-26," also contains a photograph of the 1925-1926 rugby team with complete identification.
Notes:
Title: Title is based on name of creator.
Immediate Source of Acquisition: Deposited by Beverley Macaulay in 1987.
Related Material: See also UNB Collection of Sports Photographs for Beverley Macaulay; UNB Office of the Vice-President (Administration); and UNB Oral History Project - Interview with Althea Warren Macaulay.
Access: Unrestricted.
---
File Listings:
File 1: UNB Varsity Athletic Teams, 1887-1975. Research materials, 1975.
File 2: Scrapbook - UNB Sports, 1924-1928.
File 3: Scrapbook - "UNB English Rugby Team, 1925-26."
---

BACK TO ARCHIVES
---
Document maintained by:
UNB Archives
e-mail address archives@unb.ca
Last update: 2001/09/26