---
Anthony C. Lister fonds
UA RG 351

Archives & Special Collections
Harriet Irving Library
University of New Brunswick
Box 7500, Fredericton, NB E3B 5H5
January 2001 / January 2002 / March 2003
---
Contents
Biographical Sketch
Scope and Content
Series:
1. 1980-1995
2. 1971-1988
3. 2001-2002
---
Title: Anthony C. Lister fonds. -- 1971-2002. -- 1426 slides.

Biographical Sketch: Anthony C. Lister received a B.A. (Hons) from the University of London in 1965, followed by a Doctorat d'Université from the Université de Rennes in 1974.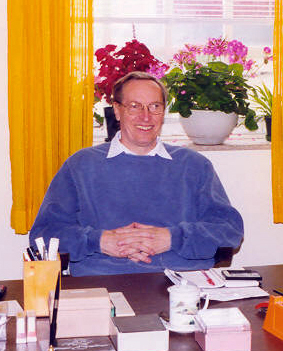 Dr. Lister was appointed first as a lecturer in the Department of French at UNB on July 1, 1968. In July 1970 he was promoted to Assistant Professor and given tenure. In July 1976 he was promoted to Associate Professor, a rank he held until his retirement June 30, 1999.
Interested in contrastive linguistics, Dr. Lister published 15 scholarly articles focusing on French and Chinese. He had a 16 year involvement with the Atlantic Provinces Linguistic Association where he held several executive positions, including President, 1993-1995. As a faculty member, Dr. Lister served on a variety of university committees, including an extended period with the Association of University of New Brunswick Teachers; numerous Arts Council committees, in
particular those related to linguistics, curriculum and assessment; and various departmental committees.
In 1968, while a student at the University of London, Anthony Lister became involved with a group of overseas Chinese students who shared his residence and gave him his first exposure to Chinese culture. It was to become a life long interest that would lead him to learn both Mandarin and Cantonese, to spend extended periods of time in Asia, especially Hong Kong, and to incorporate his personal interests into his academic work. From 1970-1973, Lister acted as Secretary for the UNB Overseas Chinese Students Association and then became faculty advisor to the organization, a position which he continues to hold as of 2001. As faculty advisor, he served the OCSA in various ways: attending committee and general meetings; attending and frequently speaking at important functions, advising members on business protocol, and liaising with the Hong Kong UNB Alumni Association. In addition he took innumerable group photos to provide a visual historical record of the organization, oversaw the retention of OCSA records and generally provided continuity for a student association whose membership changes from year to year.
See also: "How I Became Interested in Chinese Culture" by Anthony Lister in Embarking on a New Milestone: The Chinese Cultural Association of New Brunswick, 1977-1987. Also: "Interest in Philology Leads to Philanthropy" by Diane Burt, in UNB Perspectives, March 1986.
Scope and Content: This fonds consists of 1426 colour slides taken by Anthony Lister of formal and informal activities of the Overseas Chinese Students Association at the University of New Brunswick, 1971-2002. Events depicted include welcome and graduation parties, Chinese New Years celebrations, Annual General Meetings and sporting events.
The slides are divided into three series: Series 1. 1980-1995, Series 2. 1971-1988 and Series 3. 2001-2002. Within each series, the slides are in chronological order, with identification of the date and event as provided by the donor. All slides in Series 2 are identified with the prefix "2"; ex: 2-285; 2-286, etc. All slides in Series 3 are identified with the prefix "3", ex. 3-28; 3-75, etc.
Notes:
Title: Title based on the name of the creator.
Immediate Source of Acquisition: The slides 1980-86 were deposited in the UNB Archives Mar.2, 2000 by Anthony C. Lister. The second set of slides 1986-1995 were deposited Jan. 17, 2001, also by Dr. Lister. The slides in Series 2 (322 slides, 1971-1988) were deposited by Dr. Lister, Jan. 30, 2002. The slides in Series 3 were deposited by Dr. Lister Mar. 5, 2003.
Arrangement: There are some minor irregularities in the numbering of the slides.
Terms Governing Use and Reproduction: Slides may be reproduced for OCSA purposes or for personal use, if done by Archives staff.
Terms Governing Publication: Publication rights are retained by the donor for his lifetime and will then descend to UNB Archives and Special Collections. In the event of a request for publication after copyright is held by UNB, the UNB Archives will inform the OCSA of the request, and seek their advice as to any potential impact on the function or reputation of the OCSA, before granting or refusing the request.
Finding Aids: Separate listings were prepared by the donor which identify individuals in some of the slides.
Related material: Researchers should note that the official records of the Overseas Chinese Students Association are held by the UNB Archives in UA RG 346.
---

BACK TO ARCHIVES
---
Document Maintained by: UNB Archives email address archives@unb.ca Last Update: 2003/03/31