---
Wilfred Currier Keirstead fonds. --1899-1980; predominant 1899-1949. -- 0.85 m of textual material.
Biographical Sketch: Wilfred Currier Keirstead was born in Cornhill, Kings County, New Brunswick on June 12, 1871, the son of James and Melvina (Dunfield) Keirstead. He attended the Provincial Normal School in Fredericton and then entered the University of New Brunswick in 1894, graduating with a Bachelor of Arts degree in 1898 and a Master of Arts degree in 1900.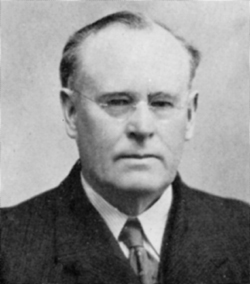 After a year at Bates College and Divinity School in Maine, he received a fellowship to attend the University of Chicago. In 1903 he received a Ph.D. (magna cum laude) from the University of Chicago, where he had come under the influence of John Dewey.
After receiving his doctorate, Keirstead's first pastorate was the First Baptist Church in Rockford, Illinois. Shortly thereafter, Keirstead returned to New Brunswick to serve as pastor of the United Baptist Church in Woodstock, where he remained until September 1908. It was at this point that Keirstead was appointed to the faculty of the University of New Brunswick. He served as Professor of Philosophy and Economics from 1908-31 and Professor of Philosophy and Education from 1932-44. His teaching load included responsibility for courses in education, philosophy, sociology, psychology, economics and political science.
Despite his heavy duties at the University of New Brunswick, Keirstead served the province of New Brunswick and its municipalities in many capacities. Between 1916-1919, Keirstead was Provincial Administrator of the Federal Food Board. He was also chairman of the New Brunswick Commission on Mother's Allowances and Minimum Wage Legislation; president of the Fredericton Children's Aid Society; a member of the Social Service Board of the Maritime Baptist Convention; and a member of the Civic Assessment Commission for Saint John. Keirstead was also an active member of the George Street Baptist Church. In addition to teaching, research, and advisory responsibilities, Keirstead published in scholarly journals, as well as giving sermons and public addresses on a regular basis.
Dr. Keirstead was married to Gertrude Seely of Saint John, N.B. with whom he had one son, Burton Seely Keirstead, who followed in his father's footsteps with an academic career that saw him appointed as Professor of Economics and Politics at UNB (1934-42). In 1942, W.C. Keirstead was awarded a D.C.L. from Acadia University and an LL.D. from the University of New Brunswick In 1944 failing health forced Wilfred Keirstead to retire from UNB after a 35 year career. Six months after his retirement, he died in Fredericton, November 4, 1944.
Sources:
"Obituary, Wilfred Currier Keirstead, 1871-1944." Canadian Journal of Economics and Political Science, vol. 11, no. 1, February 1945.
UNB Scrapbook, 1944-1945.
Scope and Content: This fonds documents the life of Wilfred C. Keirstead as a university professor, minister, social scientist, writer, public speaker, and government advisor, 1899-1944. A large portion of the fonds consists of lecture and preparatory notes from the various courses he taught at the University of New Brunswick in the areas of education, economics and philosophy. Keirstead's first vocation was the ministry which is documented by a selection of his sermons, as well as copies of numerous articles published in religious journals. Apart from his academic life, Keirstead did extensive research and writing in the areas of education, economics, taxation and government, usually at the request of municipal or provincial governments. Research notes and collected publications, correspondence with officials across Canada, and manuscripts or published versions of his conclusions are included in this fonds. A portion of the fonds consists of a miscellany of his collected materials and writings on topics which were of personal interest. A few items that were written about Keirstead, such as his obituary and eulogy are included.
This fonds is divided into six series:
Series:
1) Personal Interest Documents and Student Course Notes. -- 1900-1980; predominant 1900-1949
2) UNB Lecture and Course Notes. -- ca. 1930-1944
3) Sermons, Religious Addresses, and Religious Writings. -- 1899-1939
4) Keirstead's Research, Writings, and Addresses on Economics and Government. --1905-1943; predominant 1915-1943
5) Keirstead's Collected Research and Writings on Education. -- 1908-1942; predominant 1929-1942
6) Keirstead's Correspondence, Collected Research, and Writings on Taxation. -- 1912-1938
Notes:
Title: Title based on name of creator.
Immediate Source of Acquisition: Shortly after W.C. Keirstead's death, B.S. Keirstead donated his father's personal library of books and pamphlets to the UNB Library. A partial listing of this material is available upon request. In 1947, and in increments after that, the Keirstead family donated manuscripts and published writings to the UNB Archives. In 1972, the University of Western Ontario transferred a collection of Keirstead's sermons and religious writings, which Gertrude Keirstead had loaned a student, C.J. Williams, in 1952, to the UNB Archives.
Access: Unrestricted.
Related Material: See the Interprovincial Home for Young Women fonds (MG H 71) for W.C. Keirstead's involvement as a member of the Board of Governors. Also see the Burton Seely Keirstead fonds (UA RG 81) for other material related to W.C. Keirstead.
---

BACK TO CONTENTS
---
Document Maintained by: UNB Archives email address archives@unb.ca Last Update: 2001/09/27