---
UA
RG 248
Title: Charles Edward Kingdon Jones fonds. -- 1912-1936; predominant 1912-1925. -- 3 cm of textual material;
18 photographs: b&w, 33.5 x 26 cm or smaller; 2 artifacts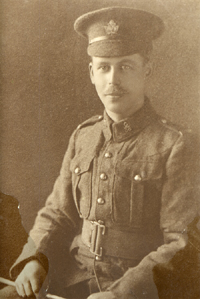 Biographical Sketch: Charles Edward Kingdon Jones was born in Saint John, N.B. on September 26, 1889. He was the son of Charles D. and J.M. Jones and brother of Dorothy R. Jones. He received his early education at Rothesay Collegiate School. Jones attended McGill University for one year and then entered the University of New Brunswick in 1908 where he received a B.A. in 1912. In 1913, Jones entered the Timber and Grazing Branch of the Department of the Interior in Ottawa. Soon after the outbreak of World War I, he entered Kingston Military College to qualify for a lieutenancy in the artillery, but he was forced to give up the course due to an accident. He returned to Ottawa and after recuperating joined the Queen's Field Ambulance. Jones joined the 38th Battalion, C.E.F. in April 1918. His engagements included Amiens, Arras, Drocourt, and Douai-Cambrai, where he was killed by enemy machine gun fire while advancing with his section on September 29, 1918. At the time of his death, Jones was in line for a commission, for which he had been singled out, and had taken part of his examinations.
Scope and Content: This fonds contains correspondence to Mr. and Mrs. Charles D. Jones and Dorothy Jones Marshall regarding the death and burial plot of C.E. Kingdon Jones, 1918-1936. This fonds also contains photographs of war sites and memorials in France, mostly related to the service and death of C.E. Kingdon Jones. Other contents include memorabilia and newspaper clippings, photographs, memorial plaque and commemorative scroll, diplomas of C.E. Kingdon Jones and Charles D. Jones, and medals.
Notes:
Title: Title is based on name of creator.
Immediate Source of Acquisition: Deposited by Dorothy Jones Marshall in 1986-87.
Access: Unrestricted.
---
File Listing:
File 1: Correspondence, August 4, 1918 - July 11, 1936.
File 2: Memorabilia and Newspaper Clippings.
File 3: Photographs - includes photographs that are mostly related to war service and the death of C.E. Kingdon Jones in France.
It also includes a composite photograph of the Class of 1912 - Sophomore Year. Individual listing available.
File 4: Memorial Plaque (Storage Room, Shelf E) and Commemorative Scroll of C.E. Kingdon Jones.
File 5: Diplomas - Bachelor of Arts, UNB, C.E. Kingdon Jones, 1912 (Storage Room, Shelf E);
Bachelor of Arts, UNB, Charles D. Jones, 1875. (Storage Room, Shelf E)
File 6: Medals.
---
Photograph Listing:
1. Sailly, Scene of Fierce Fighting in Battle for Cambrai, October 1918. (Postcard)
2. Bourlon Village, German Strong Point, near Cambrai. (Postcard)
3. Bourlon, Approach to Village and Wood. (Postcard)
4. Raillencourt, Scene of Heavy Fighting, Cambrai Battle, 1918. (Postcard)
5. Cross Roads, Sancourt, Douai, Cambrai Roads. (Postcard)
6. C.E. Kingdon Jones at back of the G.T.R. Station just before leaving for Kingston.
7. C.E. Kingdon Jones.
8. Tombstone of [C.E. Kingdon Jones].
9. Tombstone of C.E. Kingdon Jones.
10. Bourlon Village - Ruined Chateau.
11. Kingdon's resting place.
12. Bourlon Woods and Village.
13. Dump on Cambria - Douai Road.
14. Cross of C.E. Kingdon Jones at the Bourlon Wood British Cementary from Overseas Military Forces of Canada.
15. Cross of C.E. Kingdon Jones at the Bourlon Wood British Cementary from the Director- General of Graves Registration and Enquiries.
16. Staff at Field Hospital. (Frame)
17. C.E. Kingdon Jones. (Frame)
18. Class of 1912 - Sophomore Year. (Storage Room, Shelf E)
---

BACK TO ARCHIVES
---
Document Maintained by:
UNB Archives
e-mail address archives@unb.ca
Last update: 2001/09/26