---
Isabel St. John Bliss Collection [textual, graphic records].-- 1836 - [1959]; (predominant 1882-1900). -- 39.5cm.; 3 scrapbooks; 1 artifact; 47 photographs: b&w.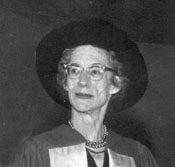 Biographical sketch: Isabel St. John Bliss was born in Fredericton in 1895, the younger daughter of Fred St. John Bliss (1863-1916) and Sophie Plant. She received much of her schooling in Fredericton, attending Charlotte St. School and Fredericton High School. Miss Bliss entered UNB in 1913, graduating with a B.A. (double first class honours) in 1917. She became a teacher, first at St. Stephen High School (1917-18) and then in Wilkie, Saskatchewan (1918-20). She returned home to teach at Fredericton High School from 1920-21. During that period she also earned an M.A. from UNB (1921).
Beginning post-graduate study in the Dept. of English at the University of Chicago, she studied for a second master's degree (1922) and received a Ph.D. in 1931. Her doctoral dissertation was entitled "The background of Young's Night Thoughts." Between 1922 and 1927, Miss Bliss taught English and was Director of Studies at St. Mary's Hall in Faribault, Minn. Joining the Western College for Women in Oxford, Ohio in 1928, she became an English instructor and went on to become Professor and Head of the Dept. of English Literature and Language there. She was the author of a critical work on the 18th century English poet, Edward Young, published in 1969 (Edward Young. NY: Twayne Publishers, 1969.) Upon her retirement from Western College, Dr. Bliss was made Professor Emeritus [sic]. She received an honorary LL.D. from UNB at the 1962 Encaenia. She died in February 1989 in Brooklyn, New York.
Custodial history: Material transferred from Isabel St. John Bliss estate to her niece, Carman St. John Hunter of Brooklyn, New York.
Scope and content: The collection consists of primary materials, such as correspondence, privately printed poems, and photographs and secondary materials gathered by Isabel St. John Bliss in preparation for her planned work on Bliss Carman. It is unknown when she acquired and began to organise her research materials. The collection comprises six (6) series:
1. Bliss Carman correspondence 1885-1929
2. Bliss Carman literary works 1885-1927 ; (predominant 1892)
3. Scrapbooks 1882-1887
4. Research material about Bliss Carman [195-?]
5. Family history material [1836-1959] ; (predominant [195-])
6. Photographs [1861-1922] ; (predominant [1881-1889])


---

Notes: Title based on the content of the collection.

Accompanying material: Seventeen (17) volumes belonging to Dr. Bliss were received along with the collection. Ten (10) volumes were of Bliss Carman's works, including #197 of the 2-volume deluxe edition set published by L.C. Page in 1904 of Poems by Bliss Carman; several are inscribed. The other volumes are books about Carman, New Brunswick literature, and history. They are located in: Hath T 4a-8. A baby bonnet, said to be that of Bliss Carman, has been removed to Textiles for preservation.

Immediate source of acquisition: material received 29 April 1994 from Carman St. John Hunter.



Associated groups of records:
Queen's University. (Kingston, Ont.). Douglas Library. Special Collections
Carman material within Edith and Lorne Pierce Collection

Smith College (Norhthampton, Ma.). Neilson Library. Ganong Collection.

For an extensive listing of locations of Carman correspondence, see "Appendix A: Notes on the major Carman collections",
pp. 371-375 in Letters of Bliss Carman. H. Pearson Gundy, ed. Kingston & Montreal: McGill-Queen's Univesity Press, 1981.

Related groups of records:
University of New Brunswick. Archives & Special Collections:

MG L4 Francis Joseph Sherman Fonds
MG L10 Sir Charles G.D. Roberts fonds (microform - original correspondence, 1869-1943)
MG L24 Roberts Poetry Project fonds (1860-1942)
MG L26 Roberts Letters Project fonds
MG L5 Lloyd Roberts fonds - Box 1 - 1892-1949
BC-MS Bliss Carman - 12-page letter to Fred M. Hopkins (1895) re. "book loving as a malady"
RA Rufus H. Hathaway Collection (1880-1933)

---

BACK TO CONTENTS
---
Document Maintained by:

UNB Archives email address archives@unb.ca Last Update: 22/03/01