---
Transcription for Indian Affairs
Document #46
Page 1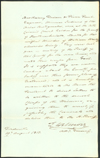 Bertholomy Dedam & Pierre Paul
Gagnow, Micmac Indians of the
River Restigouche, were at the late
[Circuit] Court [hold...] for the County
of Northumberland, indicted for the
wilful Murder of William [Wavley],
otherwise [Wisely]. They were last
year in custody of the Sheriff of
that County for the same Crime, and
made their escape from Gaol.
It is supposed they are now
lurking about the County, pro-
bably near their former place of
Residence; and it is humbly
recommended to His Honor the
President to direct Letters to
be written to the several
Chiefs of the Micmacs, re-
quiring them to arrest, if
possible, the Criminals and
deliver them to the H. Sherriff

T. Wetmore
Atty. General
Fredericton
19th August 1813.

---
Page 2


Attorney General
respecting two Indians
indicted for murder
in Northumberland

---

BACK TO INDIAN AFFAIRS DESCRIPTIONS
---
Document Maintained by: UNB Archives email address archives@unb.ca Last Update: 2002/03/31