---
Transcription for Indian Affairs
Document #35
Page 1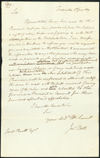 Copy -
Fredericton. 6th. June 1809
Sir

Representation having been made to the
President, that you have purchased from the Indians
a right of cutting timber and of grazing, etc. on the tract
allotted for them on the Richibucto River; I am therefore
directed by His Honor to inform you, and to request
you, as a magistrate in that District, to communicate
the information to any other persons who may have
made or propose to make similar arrangements
Natives that, by a standing order of this Government,
with any Indian Inhabitants, that no purchase
nor bargain of lease, or of any such kind, made
the Indian Natives
between them and the other Inhabitants of this
Province will be confirmed or allowed - unless
the same be made with the full consent of every
also
Man of the tribe and then submitted to the
Governor or President in Council for their
previous assent and approbation.
I have the honor to be
Sir
Your obed. hble Servant

Jonn. Odell
Jacob Powell Esq.
---
Page 2

To J. Powell Esq.
respecting Indian Lands
at Richibucto --

---

BACK TO INDIAN AFFAIRS DESCRIPTIONS
---
Document Maintained by: UNB Archives email address archives@unb.ca Last Update: 2002/03/31