---

James O. Dineen fonds [textual record, graphic material and technical drawings]. -- [18-?]- 1975, predominant 1926 - 1975. -- 2.24 m of textual records, 5 technical drawings, 14 artifacts, and 38 photographs : b&w, some col.; 36.5 x 27 cm or smaller, 45 negatives : b&w, some col.; 4.2 x 4 cm or smaller and 2 postcards

Biographical sketch: UNB professor, administrator and engineer James Owen Dineen, the son of Margaret Mary Hopper and James R. Dineen, was born at Hampton, New Brunswick 24 July 1920. He received his early education at Hampton Consolidated School, entering the University of New Brunswick bachelor of science programme (electrical engineering) in 1936 on a Beaverbrook scholarship. Following graduation four years later, he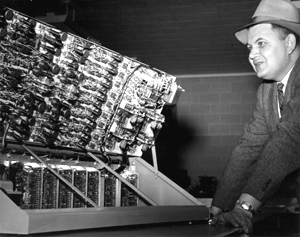 took graduate courses in electrical engineering at the University of Toronto until 1941. Returning to UNB, he earned a master of science degree in electrical engineering in 1945. On 12 July 1941 he married Grace Catherine Archambeau of Calgary, and they raised 5 children: James Richard, Mary Irene, Patricia Marie, Barbara Catherine, and George Michael.
While a university student, Dineen received military training which led to a part-time career. He was a member of the Canadian Officers Training Corps in Fredericton (1936-1939) and Toronto (1940-1941). He later served as executive officer of the Beaverbrook Corps, Royal Canadian Sea Cadets (1943-1945); commanding officer of the Beaverbrook sea cadets (1945-1948); administrative officer of UNB Squadron, RCAF (1955-1959); and as commanding officer of 202 University Squadron, RCAF (1959-1968). Dineen was also a radio instructor at both Westdale Technical School, Hamilton (1941) and UNB (1941-1942), and he assisted in the planning and establishment of Khaki College, Watford, England (1945).

Reproduced with permission of R.N. Scott

In 1942 Dineen combined his role in the miltary with university teaching, being named assistant professor of electrical engineering at UNB. He moved quickly through the university ranks: assistant professor (1942-1946), associate professor (1946-1951), professor and department head (1951-1957), and dean of engineering (1957-1969). On 1 July 1969, following Colin Mckay's resignation, Dineen became acting president of UNB. He was named university president on 1 January 1970. On 30 June 1972 he resigned that post due to ill health, but continued to teach until May 1975.
Beyond his teaching and administrative duties, Dineen was active in the broader community. He served as chair of the Electricians Examining Board, of the education committee of the Association of Professional Engineers of New Brunswick and of the advisory committee on electrical technology for the provincial Department of Education; chief examiner of the Electrical Construction Trade; member of both the Fredericton Town Planning Commission and District Planning Commission; and as a member of the New Brunswick Higher Education Commission.
Dineen's academic and community work won him recognition. He was elected Fellow of the Engineering Institute of Canada, and was named first recipient of the C. C. Kirby Award from the Association of Professional Engineers of New Brunswick and an honorary member of the Canadian Institute of Surveying. In 1974 the Engineering Institute of Canada awarded him the Julian Smith Medal for achievement in the development of Canada. Five institutions of higher learning awarded him honorary degrees: McMaster University (1968), Saint Thomas University (1970), UNB (1970), the Université de Moncton (1972), and the Nova Scotia Technical College (1973). James O. Dineen died at Fredericton 21 September 1975 following a lengthy illness.
Scope and content: This fonds documents James O. Dineen's professional activities, particularly with respect to his university teaching career and his work as a university administrator, an engineer, and a member of the New Brunswick Higher Education Commission. It also sheds light on his professional achievements, his personal relationships, and his educational activities, notably as a secondary school student, an undergraduate and a graduate student.
This fonds consists of 4 series:
1. Education and personal records
2. Professional records
3. Graphic material
4. Artifacts
It includes business and personal correspondence, engineering reports, memos, travel notes, course notes, speech notes, and examination question sheets. The fonds also contains newspaper clippings, notebooks, citations, school report cards, university degrees, and certificates of achievement, as well as technical drawings and photographs. Artifacts include an RCAF cap, drafting instruments, and slide rules.
Title based on contents of the fonds.
This fonds was deposited with the University of New Brunswick Archives and Special Collections Department by Patricia Dineen, the daughter of James O. Dineen, on 24 July 1997.
A number of school, military (radio) and engineering textbooks belonging to James O. Dineen or members of his family accompanied this fonds. A title listing of this material can be seen on request.
A few school notebooks belonging to Margaret Mary Hopper Dineen, the mother of James O. Dineen, accompanied this fonds. They have been organized separately (UA RG 347a)
Materials relating to James O. Dineen's presidency and administrative work in the Faculty of Engineering are located in the Presidents' Papers (UA RG 136) and in other university fonds.
Archives and Special Collections houses a typescript of an oral interview conducted with James O. Dineen in 1975. It also houses correspondence between James O. Dineen and R. J. Kavanagh (UA RG 353a Robert J. Kavanagh fonds), as well as correspondence submitted to the UNB Engineering Faculty and author Glenda Turner in connection with the James O. Dineen biography project (UA RG 353b).

---

BACK TO CONTENTS
---
Document Maintained by: UNB Archives email address archives@unb.ca Last Update: 2000/04/17