---
APPENDIX AA
Francis James Toole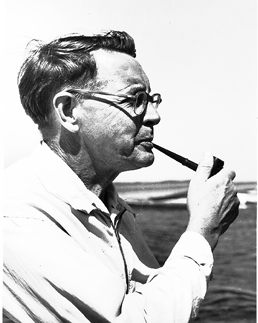 Harvey Studios
Biographical history: Born in London, England on 9 December 1894, Francis James Toole (1894-1975) received his early education at St. Aloysius College, Highgate, London. From 1915 to 1918, he served with the 23rd London Field Ambulance and 56th London Division, emigrating to Canada after the war. Toole enrolled in McGill University and graduated from that institution with a B.Sc. in Chemical Engineering in 1923, a M.Sc. in 1926 and a Ph.D. in 1929. While in Montreal he worked as a commercial chemist analyst (1923-1925) and as an industrial chemist (1929-1930). In 1934 he married Norah Vernon Barry, daughter of Vernon Barry of Montreal.
Toole began his 35-year association with UNB in 1930, when he joined the Chemistry Department as Assistant Professor of Chemistry. The following year he was elevated to the rank of Professor of Chemistry or Head of Chemistry, a position which he held until 1963.
Toole was instrumental in guiding the department through two decades of growth and development. During the late 1940s and early 1950s, the number of chemistry students at UNB rose dramatically owing to an influx of ex-servicemen. This, in turn, necessitated the hiring of faculty and staff. Toole was largely responsible for bringing Karel Wiesner, a promising young chemist, to UNB in 1948. He also played a major role in establishing UNB's School of Graduate Studies in 1950.
In the 1950s and early 1960s Toole worked to reorganize the department, to expand and improve existing programmes and to create new ones. He also laboured successfully to establish scholarships and fellowships for graduate and post-doctoral students, to secure funding for research and equipment and to have the department housed in a suitable facility.
Toole also played a key role in the university's development. He served on a number of university committees and held several prominent administrative positions. In 1946 he was appointed Dean of Arts and Science, relinquishing that post in 1950 to become UNB's first Dean of Graduate Studies. He served as Dean until 1960 when he was appointed the university's first Vice-President (Academic), a post which he held until his retirement in 1965.
In addition to his academic roles, Toole supported several humanitarian causes and belonged to a number of professional organizations. He was a member of the American Chemical Society, the Chemical Institute of Canada, and the Society of Chemical Industries. For a time, he also served on the Advisory Committee of the National Research Council.
Toole's outstanding contributions to the growth and development of UNB were recognized formally on a number of occasions. In 1965 the university awarded him an honourary Doctor of Science degree and the title of Professor Emeritus. The Chemistry Department honoured him again in 1970 by establishing the Francis J. Toole Lectures, and in 1973 the chemistry building was renamed F.J. Toole Hall in his honour. Toole died at Fredericton on 17 December 1975 at the age of 81.
---
Sources:
Who's Who in Canada, 1964-65.
American Men of Science, 1967.
Archives and Special Collections Department, Faculty Files, "Frances James Toole".
---

BACK TO CONTENTS
---

Document Maintained by:
UNB Archives
email address archives@unb.ca
Last Update: 2001/12/19