---
Introduction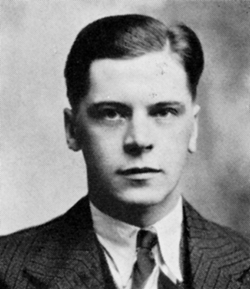 Burton Keirstead was born in 1907 in Woodstock, New Brunswick where his father, Dr. W.C. Keirstead, was pastor at the United Baptist Church. His mother was Gertrude Seely of Saint John, New Brunswick. A year after Burtons birth the family moved to Fredericton where Dr. Keirstead accepted the chair in Economic Science and Philosophy at the University of New Brunswick.
At UNB, Professor W. C. Keirstead taught an eclectic array of courses. In a paper read at the Symposium on Canadian Philosophy at the University of Toronto in 1950, it was said of Professor Keirstead that he, became professor of philosophy and indeed all the social sciences. The paper further points out that,
Keirstead who came under the early influence of John Dewey, left clearly the mark of pragmatism in philosophy and in most of his other efforts at UNB during most of the first half of the twentieth century. He was a source of inspiration and guidance to all his students and encouraged many of them to go on in quest of higher academic achievement. In deference to the needs of students and to the financial state of the university, Keirstead felt obliged to cover a wide range of interests. He lectured in Education, Political Science, Economics, Psychology, and Philosophy.
Keirstead was seen as a kindly professor by his students and, as the quotation points out, he encouraged many of his students to pursue academic careers. One such student was Alfred Bailey who, in his introduction to Culture and Nationality, credits Keirstead with laying the foundation upon which his subsequent studies in social history were based. He writes he had been predisposed in this direction,
by courses in sociology given at the University of New Brunswick by Wilfred Currier Keirstead, different as sociology and social history may be in both nature and aim (2).
Thus it was in this healthy intellectual atmosphere that young Keirstead was raised and it was undoubtedly his fathers example that inspired him to excel at his studies.

Burton was an only child and this probably explains the extra care that was taken with his education. He was, initially, privately educated and started school on the seventh of October, 1913 under the direction of Miss Nellie Taylor. The only other pupil he studied with this year was Mary McVey. Burton and Mary completed grade one on the seventh of June the following year, and that October Burton started grade two with Miss Taylor. This was the end of his private education for in the following year he was enrolled at Smythe Street School in Fredericton. His public education was carried on until he graduated from Fredericton High School in 1924. The following Autumn he enrolled at the University of New Brunswick where he majored in Economics and English. While at UNB he edited The Brunswickan and was President of the Debating Society. Four years later he graduated from UNB and at Encaenia was awarded the Douglas Gold Medal for his essay, The Resources and Economic Possibilities of the Maritime Provinces and the Governor Generals Gold Medal for the highest general standing.

At this early point in Keirsteads life, his concern about the quality of education in Canadian universities is already evident. In his last editorial in The Brunswickan (May 1928) he expresses the concern, one that has a contemporary note, that,
our universities will deteriorate into mere machines for the turning out of men trained in one profession or trade so as to be better able to earn large incomes in that profession or trade (9).
Later in the same editorial he stresses his belief in the value of knowledge for its own sake and states that, the diligent seeker after truth for the sake of truth is the only real scholar (9). These truly are the sentiments of a young scholar and at the time he wrote this, Keirstead was just beginning his academic career, for in December 1927 he had been awarded the Rhodes Scholarship for the following year.

In the Fall of 1928 he matriculated at Exeter College, Oxford and read Economics. While at Oxford he showed himself a strong student. In a testimonial dated 13-3-31, which appears in the collection, H.H. Cox, Fellow of Lincoln College, writes:
Mr. Keirstead has shown qualities of character and manner which have made it invariably a pleasure to teach him and which will be of the greatest value to him in the academic career which he desires to adopt. He would always be liked by his pupils and would take a patient and sympathetic interest in them (MS.7.1.3.b).
At Oxford Keirstead engaged in the social activities of the colleges, played ice hockey (representing Oxford against Cambridge in 1930), was a member of the Dialectical Society, Adelphi Club, and the Lotus Club. The latter was a society whose members regularly dined together and hosted a guest speaker. A fellow member was H.Z.A. Kabir of Bombay with whom Keirstead kept in touch throughout his life. His involvement with the Lotus Club was by no means peripheral or passive. It is worth noting that in conjunction with this organization he gave a talk entitled, Some Canadian Problems and also hosted, in his rooms, E.M. Forster who, on 28 May 1930, spoke on, Tendencies of the Contemporary Novel.

While at Oxford Burton met his wife, Marjorie Stella Brewer. Before they were married, however, Marjorie, or Peter as she was nicknamed, taught at Mount Allison University while Burton took up duties as the first head of the Economics and Political Science Department at the University of New Brunswick. The following summer they travelled back to England where they were married in the Gloucester Congregational Church. The previous years separation -- or near separation -- may very well have been the basis for the opening of Keirsteads novel The Brownsville Murders. The novel, written in 1933, opens with the following passage:
Whether or not it is true that love blinds the senses I am in no position to say; but it is most certainly true that Brian and Isabel were unobservant that ... Monday night (1).
In the following paragraph the narrative continues:
The youngsters had met in London and had fallen violently in love. After a years separation ... Isabel had come over to spend the summer with Brians people in Fredericton (1).
Although the novel, co-authored with D. Frederick Campbell, is in no way autobiographical, the previous passage may very well have been inspired by Keirsteads own separation from his fiancee.

After their marriage they lived in Fredericton where Burton continued to teach at the UNB. At the outbreak of World War Two, however, they moved to Halifax where Burton was connected to Dalhousie Universitys Institute of Public Affairs. It was here that he researched and wrote The Economic Effects of the War on the Maritime Provinces of Canada (1943). Marjorie aided her husband in the compilation of this report and in the Preface, Keirstead writes that, my wife assisted me enormously with work on the statistical compilations, graphical work, precis work on reports and general secretarial assistance ...

It should be pointed out that Marjorie did a B.A. Hon. at Oxford in Philosophy, Politics and Economics with minor concentrations in French and German and in later years did graduate work at McGill in English. It is probably for her work in this latter field that she is best known. She taught English at Ryerson Polytechnical Institute from 1954 to 1970 when she retired. The collection contains some of her poetry (with accompanying correspondence) which was published in Forum, Canadian Poetry, and Culture. Notable is the poem, Sequence 1944-45 published by Watson Kirkconnell in 1945. Many of her poems written at this time -- most of the poetry in the collection falls within this category -- are concerned, understandably, with the horrors of the war that was dominating everything at the time. This is clearly evident in the poem Who Killed This Boy? where the first line reiterates the title and is answered:
I, whispered one,
With my Bren gun,
I killed this boy.
Marjories concern with the war and its effect on her family in both England and Canada is particularly evident in the few pages of her journal which have survived and are part of the collection (MS.3.4.7.f). They form what is a very personal and touching aspect of a collection which is, primarily, academic or scholarly in nature.

After completing work on The Economic Effects of the War on the Maritime Provinces of Canada Keirstead accepted an appointment to the Department of Economics and Political Science at McGill University where he was Bronfman Professor from 1942-1946, Dow Professor in 1946 and Chairman from 1947-1952. The circumstances surrounding his departure from McGill are by no means pleasant and the collection contains a great deal of correspondence from this period. Suffice it to say, however, that there was a significant enough disagreement between members of the Economics Department and the Dean of Arts to prompt Keirstead to accept an appointment with the University of Toronto where he stayed until he retired in 1971.

Although most of Keirsteads academic career was spent at either McGill or Toronto, he did lecture at a number of other institutions (Massachusetts Institute of Technology, Harvard, Cambridge, and London to name a few) and was visiting Professor at two institutions. In 1937-38 he was visiting lecturer at the University of Arizona and later in 1960-61 was visiting research fellow at the University of West Indies in Jamaica. His work at this latter institution culminated in the publication, with Kari Levitt, of the study entitled Inter-Territorial Freight Rates and the Federal Shipping Service (1963). Although Keirstead went to the West Indies specifically to research in this area, his stay was characterised more by poor health than success as a research fellow. Although the report was completed and was successful, its completion was certainly a strain on Keirstead.

Although Keirstead was a noted scholar, he was also an educator. A large part of the collection contains material relating to his work as a teacher. There are many student essays and reports that have been saved as well as theses that Keirstead supervised. Also worth noting is the large amount of correspondence from his students who were eager to keep in touch with their former professor. Some, even after being out of his classroom for years, still wrote to ask his advice. This seems to be the highest compliment that can be paid to an educator. Good will is usually reciprocated and this is probably why so many of his students kept in touch with him. Keirstead thought so highly of his students that, at least on one occasion, he sought a letter of reference from one of them. In a testimonial written for Keirstead in 1937, Donald Marsh, later Director of Economic Research and Assistant General Manager with the Royal Bank of Canada, says that Keirstead taught him, as much ... by example as by inculcation, the virtues of an attitude at once critical and fair minded. At the time he wrote this letter Marsh had just completed an A.M. at Louisiana State and was a doctoral candidate at University of Illinois. He writes that Keirstead: Compares very favourably with the best men in the Department of Economics at either institution.

Also contained in the collection are a number of radio broadcasts made by Keirstead for CBC, BBC, and CFCY in Charlottetown. Most of the topics covered in these broadcasts were comments on contemporary political and economic issues. Keirstead lived during the Cold War and his broadcasts made from the UN General Assembly (MS.3.3.2) are particularly interesting.

At the end of the academic year 1970-71 Keirstead retired from the University of Toronto and returned to Fredericton. In an interview in The Fredericton Gleaner (24 July 1970, MS.7.4.q), Keirstead states that he was returning to Fredericton because it, is a beautiful city and the architecture is a treat to the eye. He also planned to work in the Harriet Irving Library at UNB which was, as he puts it, the best Ive ever worked in. Keirsteads return to the Maritimes isnt surprising, though. He had, traditionally, spent his summers in Cavendish, P.E.I. and had never lost touch with either his home town or the region.

In his book, Towards the discovery of Canada, Donald Creighton writes:
In Canada, economists are very frequently economic historians; and B.S. Keirsteads contributions to economic theory are clearly exceptional (50).
Not only were Keirsteads contributions to economic theory exceptional, but his contributions as an educator, commentator on public affairs, and writer of popular works, were exceptional as well.
---
Major Publications
Essentials of Price Theory (1942).
Tariffs and the Pulp and Paper Industry of Canada (with J.P. Day, 1944).
The Economic Effects of the War on the Maritime Provinces (1944).
The Theory of Economic Change (1948).
Essay in the Theory of Profit (1953).
Canada in World Affairs, Vol. VI (1956).
Capital, Interest and Profit (1958).
The Canadian Economy (with Deutsch, Levitt, Will, 1961).
The Federal Shipping Service (1963).
Economics Canada: Selected Readings. (Ed. with Earl, Brander, Waddell, 1974.)
---
Works Cited
Bailey, A.G. Culture and Nationality. Toronto: McLelland and Stuart, 1972.
Creighton, Donald. Towards the Discovery of Canada. Toronto: Macmillan, 1972.
Keirstead, B.S. and D.F. Campbell. The Brownsville Murders. New York: Macmillan, 1933.
---
Acknowledgements
Valuable help and advice (including some very interesting archival theory) was kindly and graciously given by Mary Flagg, Elizabeth Melanson and Heather MacMillan.
John Keefe
B.A. (U.P.E.I.)
M.Phil. (Glasgow)
Archival Assistant, Harriet Irving Library
University of New Brunswick
Fredericton, New Brunswick E3B 5H5
16 March 1990
---

BACK TO CONTENTS
---
Document Maintained by: UNB Archives email address archives@unb.ca Last Update: 2002/04/08