---

"Passing Through: Pictures from the Life of Mrs. W. Garland Foster (née Annie H. Ross)"
by Patricia Belier
Originally published in
The Officers' Quarterly
v. 12, no. 2, Spring 1996, p. 7-9
So began the 1939 manuscript version of the autobiography of one of Canada's pioneer women journalists and civic politicians, a nurse, teacher and writer -- Annie Harvie Ross -- of Fredericton, Acton, and Woodstock, New Brunswick.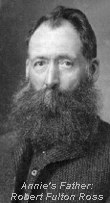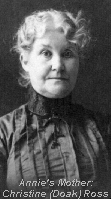 Annie Harvie Ross (1875-1974) was born in Fredericton, the eldest of three children of Robert Fulton Ross (1840-1921) and Christine Doak (1847-1935). She belonged to four very well-known pioneer New Brunswick families: the MacDonalds from the Nashwaak area, the Storey and Doak families from the Miramichi (on her mother's side), and the Rosses of Maugerville and Fredericton.
Annie Ross spent her very early years in Fredericton. Her family lived "two houses beyond" the residence of Edward H. Wilmot, near Regent and Charlotte Streets. (E.H. Wilmot, younger half-brother of Lemuel Allan Wilmot, gave Fredericton both Wilmot Park and Queen's Square, amd his name to Wilmot Alley, west of where he owned a business block.) She attended primary school in the city and recalled having to pass by the tombstones of some of her Ross-Fulton ancestors in the Old Burying Ground on a short-cut to the Model School of the Provincial Normal School (now the Justice Building). At this time, the family was moving back and forth to the country, to Acton and Manners Sutton, near Harvey Station in York County. Annie maintained close and frequent contact with her Doak and Ross relatives, even though the family travelled fairly often within the St. John River valley, due to her mother's health and for reasons of her father's employment (mainly as a foundry worker).
Annie graduated from the grammar school in Woodstock in 1892, winning the L.P. Fisher gold medal "for regularity of attendance " (later donated to the Fisher Library). The Carleton Sentinel of 16 July of that year reported that she received Macaulay's History of England as "leader of [the] graduating class". She entered UNB that fall, along with another recent subject of this column, Isaac Burpee (see Officers' Quarterly, Spring 1995). Upon her graduation in 1896, Annie was awarded a B.A. with class distinction in English. In the University Monthly for October 1896, she was remembered as "a brilliant conversationalist ... [of] cheerful voice" and it was noted that "the Ladies' Reading Room is quiet without her." In a 1961 letter to Dr. Gertrude Gunn, of the Harriet Irving Library, Annie recalled that "while I was at UNB, Dr. Harrison used to say we girls talked too much ..."!
After graduation, Annie pursued her dream of a career in medicine, by enrolling in a nursing course in the hospital at Somerville, Mass. She later continued her nursing training at the Philadelphia Polyclinic (now the University of Pennsylvania Hospital), receiving a diploma in 1901. In 1903, she took part in the organisation of the Carleton County Hospital, later the Fisher Memorial Hospital, at Woodstock, where she was Matron. For some time she continued her career as a private duty nurse, but health problems finally forced Annie to abandon nursing for the time being. True to her spirited nature, she turned to teaching, as she had also acquired a Grammar School license during her last year at UNB.
In August 1905, Annie left by train for Regina, to take up her first teaching post, beginning her long association with the Canadian West. After a few years in Saskatchewan schools, she answered an advertisement for a teaching position and moved farther west, to Nelson, B.C. in 1908, a location to have a significant impact on her future.
After a short time in Nelson, Annie moved again, this time to teach primary school in Golden, B.C. (where her school's principal was a Mr. Robert Landells, once principal of a New Brunswick school Annie herself attended). However, about 1914, she returned to her former school in Nelson, this time as the school's principal. It was during this period that she became acquainted with the editor and publisher of the Nelson Daily News, an Ontarian named William Garland Foster. They were married early in 1915, and soon after Foster left for overseas service in the Great War.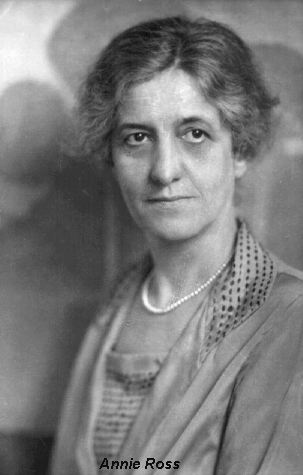 Annie followed her husband to England, volunteering as a nursing sister with the British Red Cross, working in various hospitals in southern England. She remained in Britain until about 1917, and was invalided back to Canada; her husband was killed in France in October 1918. After the War, Annie helped the government of British Columbia in its work with the Red Cross and returning local war veterans. She was President of the Nelson Great War Veterans' Association and was the only woman delegate to attend the Montreal convention of the GWVA, probably in the early 1920s.
The post-war world brought a change of direction in Annie's life and career. She turned to municipal politics and ran successfully for Alderwoman in Nelson in 1920-21. She is reported to have made history by getting the local street railway to pay its own way. However, she was defeated in her bid for the Nelson mayoralty in 1922 and ran unsuccessfully for a seat in the British Columbia legislature, as a Tory, in 1923.
The other major change in Annie Foster's life during this period was the flowering of a serious writing career. By the mid-1920s, she had moved to Vancouver and had begun writing short stories, essays, feature articles, book reviews, opinion pieces, and occasionally poetry. For over twenty years, she was a frequent contributor to the Vancouver Daily Province and to Canadian Author and Bookman, and was also published in Saturday Night, Dalhousie Review, The Canadian Magazine, the British Annual of Literature and in various gardening magazines, the latter reflecting her favourite recreation.
Judging by some of her published essays and commentaries, she was an outspoken, assertive woman and, perhaps most interestingly for the times, a firm Canadian nationalist and apologist for Canadian culture. She championed the writing of what she called "decent stuff" in popular magazines, meaning articles with style, well-constructed plots and taste. In a 1926 letter to the editor of the Canadian Bookman, she took strong exception to previously published remarks stating that we "have no national life in Canada." Her scorn was heaped upon native Canadians "fouling their own nests with such sentiments." She went on to refute the arguments in the earlier piece, noting that "every country recognises us nationally, except ourselves." In 1930, commenting on an editorial in a Vancouver newspaper, entitled "What makes Canadians Canadian?", she urged readers to consider more closely the achievements of native-born Canadians, and predicted the "untold greatness" of Canada in the years to come.
Again, in 1931, she protested in print the remarks of a speaker she had heard, who blamed the lack of the existence of "a truly Canadian literature" on the "fact that Canadians live such drab lives"! Annie drew on her knowledge of the life stories of many Canadians to contradict this notion, even recalling some of her own family's adventures of the 19th century to disprove the argument. In a 1936 address to the Women's Canadian Club in Vancouver, she was still taking on those nay-sayers who claimed there existed no Canadian literature. She stated that time is required for a nation to build a body of literature, and cited the contribution of poets such as Pauline Johnson to this end.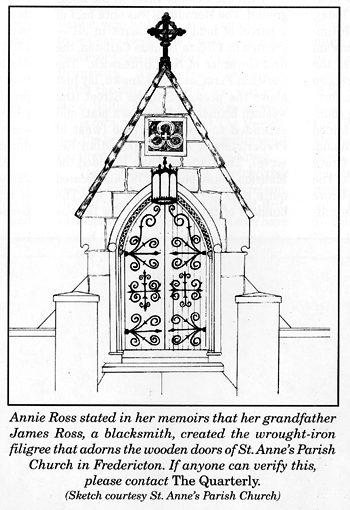 Annie published her first book in 1931, a biography of E. Pauline Johnson, entitled The Mohawk Princess; being some account of the life of Tekahion-wake (see Officers' Quarterly, Summer 1995). In 1938, she co-authored, with Anne Grierson, High Days and Holidays in Canada, for the Ryerson Press, and in 1946, again with Ryerson, she authored Makers of History, a collection of biographical pieces on Canadian heroes.
Apparently never a woman to shy away from responsibility, she acted as President and Secretary of the Vancouver Branch of the Canadian Authors' Association, and was on the Executive of the Women's Canadian Club of Vancouver. During this busy period of her life, Annie was also preparing an index to the works of British Columbia authors and, as she commented later in a 1944 interview, "since most inhabitants of this province seem to feel impelled to write at one time or another, this is proving a mammoth undertaking."
The research and indexing skills required for her work on Pauline Johnson and for the B.C. authors project were acquired through her completion of a Bachelor's degree in library science at McGill in 1931. Her book, The Mohawk Princess, was submitted, in lieu of a thesis, for the degree of M.A. in English to the University of New Brunswick in 1932. She continued to pursue her interest in biographical writing, preparing two further manuscripts (unpublished), one being the life of Arthur Meighen (The Inscrutable Canadian), and the other, a study of the Doukhobor sect (The Canadian Doukhobors: a study in communism).
Annie's interest in biography was not limited to the Canadian subjects mentioned earlier. She had a deep interest in her own genealogy and, during the 1950s, she turned her attention to the documentation of her New Brunswick family tree - a lengthy research project. She entitled this manuscript, Some account of the families of James Ross, Donald MacDonald, Joseph Storey, James Doak and their descendents. Later, in the 1960s, and concentrating particularly on her Doak relations, Annie (from her base in Vancouver) teamed up with a Miss Louise Bamford, who was then living and teaching in Doaktown, to help her with the local 'digging' in New Brunswick. An exchange of letters and research notes began, culminating in the manuscript entitled The Doaks of Doaktown, N.B. (unpublished). This manuscript and the correspondence from Annie Ross to Louise Bamford has been donated to the Archives of UNB by Miss Bamford and take their place along with two cases of material donated by Annie to the University in the 1960s, including family photographs and copies of her manuscripts. Louise Bamford who is herself the author of The Bamford Saga, 1764-1989 (Fredericton, 1989), currently lives in Fredericton and is an active member of the New Brunswick Genealogical Society.
As Annie's professional career was coming to a close, she characteristically took another bold step, by marrying again in 1945 at the age of seventy, this time to a Mr. Patrick Hanley, an insurance salesman, who was formerly a Lieutenant in her first husband's regiment during World War I, and whom she had known many years earlier. They moved to White Rock, B.C., where Annie had a summer residence since 1927, and they lived there until her death in August 1974 at the age of 99 years. One of Canada's earliest liberated women in the fields of scholarship, politics, and medicine, Annie Harvie Ross Foster Hanley left her mark from East to West and overseas.
[Photographs courtesy of UNB Archives]

---
Patricia Belier is a Collections Development Librarian at the Harriet Irving Library, UNB. Her articles on Isaac Burpee and Pauline Johnson appeared in the 1995 Spring and Summer issues respectively.

---

Back to Annie Harvie (Ross) Foster Hanley Biographical Sketch
---
Document maintained by: UNB Archives e-mail address archives@unb.ca Last Update: 2002/04/23