The Ward Chipman Slavery Brief
from the Archives and Special Collections at the University of New Brunswick
Biographical Information
Ward Chipman, 1748-1824

Ward Chipman was a prominent New Brunswick lawyer, judge and Loyalist."Chippy," as he was known to his friends, was born in Massachusetts to a successful lawyer. He graduated from Harvard University in 1770 and studied law with Jonathan Sewall.
Chipman supported Britain during the American Revolution. In 1777, he acted as Deputy Muster-Master General in New York under Edward Winslow, who remained a great friend of his. When New York was evacuated in 1783, Chipman travelled to Britain; only a year later, he was appointed Solicitor-General for New Brunswick.
P.A. Ryder commented that "(Chipman's) life mirrored that of the Province of New Brunswick from 1784 to 1824." Chipman played a part in many important events and was involved with some critical issues that arose in the province. Besides representing the Crown in border disputes with the United States and Nova Scotia and sitting in New Brunswick's first House of Assembly, Chipman also drew up the Charter for the city of Saint John. In 1806 he became a Legislative Councillor, and in 1809 he was made a puisne judge in the New Brunswick Supreme Court. Chipman's marriage to Elizabeth Hazen allied him with one of the oldest families in the province. Isabel Louise Hill stated that, "as long as he lived, suggestion of reform was considered an attack upon the constitution" (Hill, p. 160).
His public life did not always run smoothly. Although he won a seat in the first House of Assembly, he never succeeded in winning a seat in future elections. After the 1795 election, he wrote a letter to the Gazette. He explained that his friends wanted him to demand a recount of the votes, but he graciously refused, noting that such an action would "probably give rise to such dissentions and animosities to the disturbance of the public peace... and which I should poorly merit the character I boast of, if I did not study to prevent" (Gazette, Sept. 1, 1795: p.1). The loss was evidently a great blow to Chipman: "I had hoped, that my unwearied and laborious exertions in the service of the Province, from its earliest period to this day, not only without any pay or emolument, but with great inconvenience and injury to myself, had entitled me to the fullest confidence of my fellow-citizens; and a wish still to contribute all in my power to the Public Weal, had reconciled me to a continuance of the same sacrifices."
Chipman's role in R v. Jones has received much praise. David Bell notes: "Chipman's supposed opposition to slavery is generally cited as one of the chief glories of his career"(Bell, p.34). Ryder lauded Chipman as, "a legal pioneer in the struggle to aid the afflicted," (Ryder, p. 79). This image of Chipman as a "volunteer for the rights of humanity" (Spray, p.23) is obscured, however, by his role in a trial several years later, in which he acted for the slave owner. In 1805, a black slave, Richard Hopefield, attempted to prove his status as a freeman to the court. Samuel Denny Street, Chipman's co-counsel in R v. Jones, acted for Hopefield while Chipman acted for the master. David Bell has remarked that Chipman's 1805 brief is one of the "most extensive legal defenses of slavery ever offered in British North America" (Bell, p. 16). Historians have attempted to explain Chipman's abrupt about-face in 1805. Bell suggests that during the 1800 trial, Chipman was trying to curry favour by presenting himself as a progressive abolitionist in order to secure a judicial appointment. Barry Cahill proposes that Chipman saw slavery not as a moral issue, but as a legal issue. This view enabled him to argue both sides of the slavery debate, depending on the needs of his client. (Cahill, pp. 73-135)
Chipman's later actions further confuse the picture. During the War of 1812, hundreds of slaves left the United States and arrived in New Brunswick under British protection. Each family was promised a 50-acre lot in the Loch Lomond area near Saint John. When the ex-slaves arrived, however, they did not receive titles to the land, but only three-year licenses. Also, despite their complete lack of funds, they were informed that the land was to be surveyed at their own expense. In 1816, President Hailes asked Chipman for his help in settling the ex-slaves. The following year, Chipman wrote to the government in support of the slaves. He insisted that it was "a cruel thing that they should have been sent by Government, to this, to them inhospitable, climate, and left without any aid in making a settlement" (Spray, p. 45). He suggested that the government should arrange and pay for the lots to be surveyed. The government agreed to conduct the surveys, but when they still refused to fund them, Chipman himself contributed a large portion of the money.
Chipman's views on slavery remain a mystery. He was a conservative politician, lawyer and judge, but his actions regarding slavery did not always follow this conservative path. The 1800 trial was the first time that slavery had come up for a legal decision in New Brunswick, and Chipman's views on slavery have mostly been remembered in accordance with this case. In 1823, only months before his death, Chipman was named President and Commander in Chief of New Brunswick.
Nancy, or Anne
The "Black woman Ann otherwise called Nancy" was the slave around whom the 1800 case (R v. Jones) centred. There are scant resources available from which to piece together a picture of Nancy's life, but an image does emerge from various newspaper articles and court records of the time. Caleb Jones, Nancy's owner, claimed in his return to the writ of habeas corpus that Nancy had been a slave since birth. According to Jones, Nancy was born in Maryland to an African female slave, and she left Maryland for New Brunswick with Jones in 1785. A few articles pertaining to Nancy's life appeared in the Saint John newspaper, the Royal Gazette, before the trial in 1800. On September 19, 1786, Jones reported in the Gazette that Nancy had escaped from his estate in Nashwaaksis, along with a young Black boy and three other adult slaves. He described her as "NANCY about 24 years old, who took with her a Negro child about 4 years old called LIDGE." Jones offered a reward of six dollars each for the return of Nancy and the other female slave, and of two guineas for each of the men. This same announcement appeared in the Gazette in July and September 1786, indicating that Jones had some difficulty reclaiming his slaves:
RAN AWAY From the subscriber living at the Nashwakshis, the county of York, between the 15th and 21st days of this instant July, the following bound Negro slaves, viz. ISAAC about thirty years old, born on Long Island near New York, had on when he went away, a short blue coat, round hat and white trousers. BEN, about 35 years old, had on a Devonshire Kersey jacket lined with Scotch plaid, corduroy breeches, and a round hat. FLORA, a wench about 27 years old, much pitted with the small pox, she had on a white cotton jacket and petticoat. Also NANCY about 24 years old, who took with her a Negro child about four years old called LIDGE. The four last mentioned Negroes were born in Maryland, and lately brought to this country. All persons are hereby forbid to harbour any of the above Negroes, and all masters of vessels are forbid to take them on board their vessels as they shall answer the consequences. A reward of TWO GUINEAS, will be paid for each of the men and SIX DOLLARS for each Negro woman, by Mr. THOMAS JENNINGS, if taken and deliver'd to him at the city of Saint John, at York Point, or if taken and delivered to the said JENNINGS or to the subscriber in York County, the like reward with all reasonable charges will be paid by the said JENNINGS or the subcriber. CALEB JONES. 25th July, 1786.
When the judges' decision split in R. v. Jones, Nancy was returned to Caleb Jones, who in turn sent her back to her previous owner, William Bailey. Turn-of-the-century historian I. Allen Jack has dismissively described Nancy's fate following the trial: "She bound herself to [Bailey] for fifteen years and disappeared from history" (Jack, p. 152).
It has been difficult to trace Nancy's life before and after the trial, partly because of the dearth of records left behind about New Brunswick's slave population, but also because of the uncertainty of Nancy's full name. A few items appeared in the Gazette several years after the trial that could have related to the Nancy involved in R v. Jones, but it is impossible to make any certain connections. In 1806, for example, a black woman, Nancy Richards, was acquitted for the murder of a bastard child and sent to the House of Correction for six months (GazetteSept. 10, 1806). Three years later, a Mr. D. Brown advertised "A Negro Wench, named Nancy" for sale in the Gazette(Oct. 16, 1809). Despite the uncertainty surrounding Nancy's life after the trial, she undoubtedly played an important role in R v. Jones as the slave around whom the battle to declare slavery illegal was fought.
Samuel Denny Street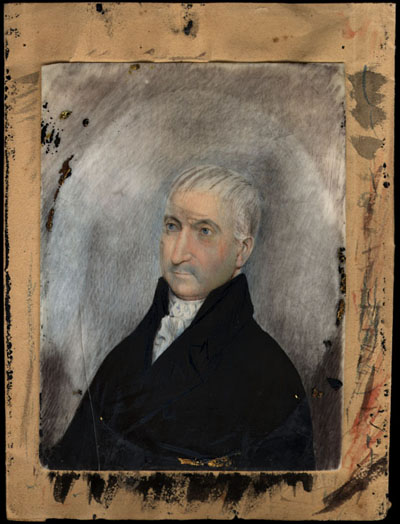 "The Hon. Samuel Denny Street was a small man, proud, provoking, and provoked" (Hill, p.92).
"Mr. Samuel Denny Street was a man of small size, about 5 feet 7 inches in height, and a contemporary has described him as 'a regular game-cock,'one who would brook no slight from any man." (D. R. Jack, pp. 174) S.D. Street (1752-1830) was Ward Chipman's co-counsel in R. v. Jones. English born and educated, Street was a prominent New Brunswick lawyer and politician. He has been described by his contemporaries, as well as by recent historians, as a fiery gentleman who was embroiled in every political skirmish. Street was a staunch reformer in the House of Assembly, and his alliance with his adversary, the conservative Chipman, in R. v. Jones was an unlikely one. There is some debate over who led the Defence in the 1800 trial, given Street's dedication to reform and Chipman's conservative roots. David Bell casts Street as the "moving force behind the abolitionist legal agitation in New Brunswick," explaining that it was he who initiated the habeas corpus against Caleb Jones (Bell, p. 20). I. Allen Jack, on the other hand, credits Chipman with devoting "all his knowledge and mental energies to help to obtain liberty for the slave Nancy" (Jack, p. 146-147). Four years after the trial, when the slave Richard Hopefield went to court to prove his status as a freeman, Street acted for Hopefield, while Chipman acted for his master. In addittion, Street was himself tried for harbouring a slave. The trial was recounted in the Gazette:Street was himself charged in 1806 with harbouring a slave as the Gazette recounts:
FREDERICTON, 26th Aug. 1806. His Honor the Chief Justice returned last Saturday from the Queen's County and Sunbury Circuits. At the former the Grand Jury were dismissed very shortly after they were sworn, having no business whatever before them; and at the latter, not one Bill was sound. This Grand Jury in obedience to the charge of the Court, having enquired into a complaint which had been before made to the Chief Justice against two Daughters of Mr. JAMES TAYLOR of Maugerville, sounded, as was said, upon the representation of a black woman (of infamous character) for having murdered the Bastard Child of one of them, reported to the Court that they could find no Bill. The complaint was, as far as could be discovered, altogether without foundation: indeed there was no testimony (worthy of credit,) that a Child had been born, or that the supposed Mother was like for one. At the Circuit for Queen's, only two Civil causes, and those of inferior moment, were tried. At the other Court eleven causes were entered for trial four of them were accommodated, and the remainder tried. Four of these were of very little importance, except to the parties, but in the other three were involved questions in which the public are interested. 1. The first was an action of Trover brought by JOSEPH CLARKE, Esq.against SAMUEL D. STREET, Esq. For a Negro Boy claimed by the Plaintiff as his Slave. The Plaintiff gave in evidence a bill of sale from one Gabriel Fowler to him for the mother of the Boy in question, and a permit from the Police Office of New York, dated in 1783, to Fowler to bring the Woman as his Slave to this Country. It appeared that the Boy was born at or near the City of Saint John after the date of the bill of sale, and that his father, (if known) was a free man; that he had run away from the Plaintiff, and was harboured by the Defendant. The conversion was satisfactorily proved by an implied refusal to deliver the Boy upon demand.The Counsel for the Defendant moved for a Nonsuit upon four grounds, viz.1st. That it did not sufficiently appear that the mother of the Boy was a Slave. (For the general question of Slavery was not agitated.) 2d. That it appeared that the Boy was a bastard, or otherwise that his father was a free man; and in either case he must be free, as by the Laws of England, the issue follows the condition of the father and not of the mother. 3d. That as there was no Law of this Province creative of Slavery, and its existence here depended wholly upon the several Acts of the British Parliament, which were silent as to the Children born of Slaves, they could not be held in Slavery, but were entitled, as British subjects, born in this Province, to all the benefits of the Common Law of England, which is the Law of this Country; and therefore, admitting that the Rule of the Civil Law "that the child follows the condition of the mother," should prevail, or that both the Parents of the Boy were African Slaves, he being a native of this Province must be free. 4th. That the action of Trover would not lie for a Negro Slave, because no person could have that uncontrolled and unlimited property in a Slave, which was necessary to support this action.The Counsel for the Plaintiff urged in reply, that an action like this had been brought in Nova Scotia by Mr.De Lancey, and quoted the opinion of Mr. Aplin, supported by several learned Gentlemen in England,(as appeared in a Pamphlet published in this Province,) but the Chief Justice did not think that case of sufficient authority, and directed the Nonsuit, upon the third and fourth grounds moved by the defendant. His Honor was of opinion that the title to the mother was sufficiently established, and as to the second he was silent. 1806/9/10
Following the 1800 trial, one of New Brunswick's wealthiest slave owners, Stair Agnew, challenged Judge Allen to a duel. Allen was one of the two judges who had ruled in Nancy's favour. Allen declined the challenge, but Street was eager to take his place. Duels were a not uncommon part of Street's life. Hill suggested that, "admiration of [Street's] proud spirit might well have influenced younger men, as several duels occurred near Fredericton" (Hill, p. 92) Earlier in 1800, Street challenged John Murray Bliss, another lawyer, to a duel. Street felt that Bliss had accused him of lying to the jury in a case that had been tried that day. The Street-Bliss duel was recounted by Street's second, Mr. Anderson, and is the earliest New Brunswick duel for which any record exists. Anderson's account of the duel confirms other depictions of Street's passionate nature: "Mr. Street insisted in strong terms he would have an apology or the blood of his adversary." (D. R. Jack, p. 177)
Street was an officer for the British in the American Revolution, and in 1781 he was stationed at Fort Howe in Saint John. One account of his capture from Fort Howe and subsequent escape also speak of his plucky character: In 1781, Mr. Street was in an armed boat out of Saint John with a party of soldiers when the boat, crew and party was captured. Twice, an offer was made to have Lt. Street returned in exchange for two captains, but the offer was declined. The Machias people had forwarded a memorial stating that Mr. Street was quite too mischievous a person to be set at liberty, and requested his detention during the war. He escaped three times, the third time from a prison ship in Boston harbour. He swam with the flood tide over a mile up the harbour, took refuge in the house of an Englishman, and finally returned to the garrison at Fort Howe. (hill, p. 88)
Street was called to the New Brunswick bar in 1785, and he developed a large law practice. He also served in the House of Assembly for many years. As a supporter and running-mate of James Glenie, the province's most vocal reformer, Street represented political radicalism to Chipman, Carleton and many other members of the government. Until 1804, the reformers enjoyed widespread support in New Brunswick and they formed a significant presence in the House. In 1803, for example, the clerk of the House died, and the Assembly rejected Carleton's choice for a new clerk and elected Street instead. This upset led to a "legislative imbroglio" in which Street was the subject of much ridicule. Edward Winslow wrote at the time: "Do you see a little short-legged thing there, that looks like a creeper-cock and buzzes and whizzes about like a bottle-ars'd fly?" The situation was resolved when Carleton's choice for clerk received the pay, although it was Street who had performed the clerk's duties. Another member of the Assembly remarked that "a general satisfaction prevailed except in one-little-dirty-Street." (MacNutt, pp. 114-115)
In 1804, along with many other reformers, Street lost his seat. MacNutt attributes this decline in support for reform to England's war with France and the rejuvenation of patriotism for Britain (MacNutt, p. 115). Street did serve in the House again, however; most notably throughout the War of 1812. Street often felt that he was passed over for appointments to the Council and other posts because he was an Englishman "in a land of American refugees" (MacNutt, p.186) Nevertheless, he was finally made a Member of Council in 1819.
Bibliography
Primary Sources- Letters
Lawrence Collection: MG 23 D1, National Archives
Finding aid to Chipman papers in Lawrence Collection- HIL-REF FC2471.1.C45P8 1980
Chipman to Blowers, 27 Feb 1800
Blowers to Chipman, 7 Jan 1800
Chipman to Blowers, 5 Dec 1799
Odell to Chipman, 12 Nov 1805
Winslow Papers:
Index to Papers- HIL-REF FC2471.3.G7s 1986
Winslow to Chipman, 7 Jul 1783
Winslow to Chipman, 27 April 1784
Winslow to Chipman, 25 April 1785
Chipman to Winslow, 25 June 1783
Chipman to Winslow, 14 Mar 1784
Sewall Papers: National Archives
Saunders Papers: UNB Archives
Hazen Collection: NB Museum
Newspapers
Royal Gazette: 18 Feb 1800 (on trial)
14 Jan 1800 (on trial)
28 Jul 1801 (judge's analysis of 1790 Act- possibly Saunders)
19 Sep 1786 (advertisement for slave)
11 Sep 1787 (ad)
4 Jul 1786 (ad)
NB Courier: 1 Apr 1815 ("Negro's Soliloquoy")
Court Records
1800 case: Supreme Court records, R.S. 42 for 1800, Provincial Archives
Richard Hopefield case (R. v Agnew), 1805-06, on lawfulness ofslavery in NB -includes long brief by Chipman in favour of master
Journals of the House of Assembly, 1801, Provincial Archives.RG2, S14-B9.1 -on Stair Agnew's "Bill Relating to Negroes"
Saunders Papers, UNB Archives, misc. n.d. #7 -on 1790 Act
Ward Chipman's Diary -account of trip to visit family in US -includes picture of Chippy
Sources from late 19th-century
J.W. Lawrence. Foot-Prints, or Incidents in [the] History of NB; Saint John, J. and A. McMillan, 1883.
W.G. MacFarlane. Fredericton History: Two Centuries of Romance,War, Privation and Struggle, 1893.
W.O. Raymond. "The Negro in NB," Neith, 1893?
T.W. Smith. "The Slave in Canada," Collections of the NS Historical Society, 1898.
I.A. Jack, "The Loyalists and Slavery in NB," Proceedings of the Royal Society of Canada, Ser II, V. 4, 1898.
J.W. Lawrence. The Judges of NB and their Times; with an Introduction by D. G. Bell; Fredericton, NB; Acadiensis Press, xxi, 1907.
J.A. Hannay. History of NB; St. John, J. A. Bowes, 1909.
"Slavery in Canada," Proceedings of the Royal Society...,1890. Microfilm
"Historicus: An Incident in the Early Life of Ward Chipman," NB Magazine, Oct 1899.
Secondary Sources
Chipman Family History. UNB Archives, MG H104.
D.R. Jack, "An Affair of Honour," Acadiensis, UNB; Fredericton, .
Isabel Louise Hill, Some Loyalists and Others, Fredericton, 1976.
N534 W. S. MacNutt, NB A History 1784-1867; Macmillan: Toronto, 1963.
Robin Winks, The Blacks in Canada; Montreal, McGill-Queens Press, 1971.
W.A. Spray, The Blacks in NB; Brunswick Press, Fredericton, 1972.
W.A. Spray, Blacks in Atlantic Canada; Ottawa, National Museum of Man, National Museum of Canada, 1988.
J.W. Walker: The Black Loyalists; New York, Africana Pub. Co., 1976.
P.A. Ryder, Ward Chipman, United Empire Loyalist, M.A.Thesis; UNB, 1958.
P.A. Ryder, "Ward Chipman Sr: An Early NB Judge," University of New Brunswick Law Journal,1959 (12).
David G. Bell, "Slavery and the Judges of Loyalist NB," University of New Brunswick Law Journal;UNB, Fredericton, Vol. 31, 1982 (31).
Barry Cahill, "Slavery and the Judges of Loyalist NS," University of New Brunswick Law Journal; UNB, Fredericton, Vol 43. 1994 (43).
Charlotte Gourlay Robinson, Pioneer Profiles of NB Settlers; Mika Publishing Co.: Belville, ONT., 1980.
Sibley's Harvard Graduates; Cambridge Mass., Harvard U. Press Vol. 17.
Esther Clark Wright, The Loyalists of NB; Fredericton, 1955.
Bramble, Linda:Black Fugitive Slaves in Early Canada; St. Catherines, Vanwell Pub., 1988.
Tulloch, Headley: Black Canadians: A Long Line of Fighters; Toronto; NC Press 1975.