The Ward Chipman Slavery Brief
from the Archives and Special Collections at the University of New Brunswick
About the Project
The Chipman Brief was elected as a project by UNB Libraries and the UNB Libraries Electroninc Text Centre because of it's significance to the university community and academic research generally, and also because it enhances the existing projects that the Text Centre has developed with archives and special collections. The Benjamin Marston Diary project, the prototype SGML project for the centre, relates the life and struggles of Loyalist Benjamin Marston. Marston was a contemporary and friend of Ward Chipman; they attended Harvard together. The diaries offer a wide sampling of the times, while the brief is extremely narrow in its focus, but together the projects offer a glimpse into the social and political texture of the province.
Providing this document on the web means that the Harriet Irving Library is joining many conversations already in progress. Canadian history sites, black history sites, women's history sites, American history sites and legal sites are some of the conversations this project augments.
About the Manuscript
The Ward Chipman Brief is a restored, 43 page manuscript with handwriting on both sides of each page. There is a damaged provenance accompanying the brief and a personal card of Hannibal Hamlin.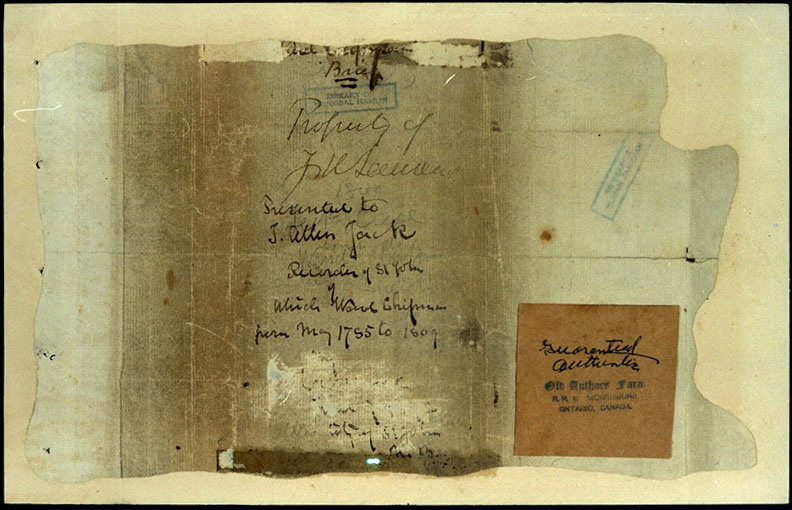 The manuscript is part of the Harriet Irving Libraries' Beaverbrook Collection.
How the Project Was Prepared
The Chipman Brief was transcribed from a copy of the manuscript and then collated against the original. The brief was marked up in SGML using the TEI markup scheme and then translated into HTML. Images of the brief were captured to photo cd by UNB's Audio Visual Services. The images were then edited for the web using Photoshop 4 in the Text Centre.
Web publishing allows editors to continually alter, augment and correct their edition of a work. The Chipman brief offers many directions for expansion. Some of the quotes still need to be fully identified and there are countless letters, newspaper articles and manuscripts that would supplement the Chipman project nicely. In short, the project is on-going. Please contact the ETC with any comments, questions, or observations you may have regarding the project. The Ward Chipman Slavery Brief has been compiled by the staff of the Electronic Text Centre at the University of New Brunswick. Funding for the project has been partially provided through a grant from Industry Canada's Schoolnet initiati